The world is not shy in the tennis technology department. There's tons of it. Most of what you find attaches to your racket or...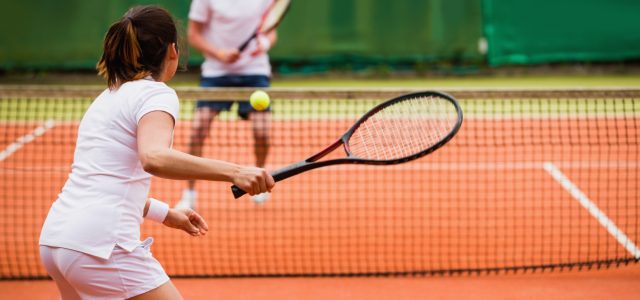 The world is not shy in the tennis technology department. There's tons of it. Most of what you find attaches to your racket or uses special cameras to capture your movement. The former is not a true wearable since it goes on your racket, the latter is an expensive option. Other than hire a trainer, for the non-professional, picking the right technology can be overwhelming.
We're fans of wearable technology, but only true wearables, technologies that go on the body. To make our list, it had to be something you could wear.
Two of these options you can purchase right now. The last one is still in pre-sale, so you're gonna have to wait a couple of months for it to arrive, but we think it's definitely worth your time. We explain why in just a bit…
Babalot is a name familiar to tennis players. They've been making pro rackets for few years, like over a hundred of them. In fact, they claim to be the oldest name in racket sports, taking credit for the invention of racket strings.
Building on the success of their Play racket, a connected racket designed to help your game, Pop uses the same technology to help you play better but also stay connected.
It's as much about being a coaching wearable as it is a social networking wearable. It will measure the speed and power of your swings, give you data on your service and the quality of your topspin.
Friends who have the Pop wearable can challenge you to games, which Babalot tracks in its ecosystem. The companion app is available on Android or iOS.
Pulse Play will help you keep track of not only your tennis game but any racket game you play, including squash and badminton.
Whereas the other two on this list coach you, the Pulse Play adds a fun, professional scoring aspect to your game. The bracelet makes audible scorekeeping announcements like in a pro game.
It will keep track of your game history, but will also rank you against other players, and help you find opponents.
This wearable takes the style award from the bunch, passing for a standalone smartwatch when you're off the court. It's compatible with iOS and Android ecosystems.
Pivot
The makers of Pivot, Turingsense, held a successful Indiegogo campaign this past year, which closed in January after almost tripling their goals.
Pivot is several wearable pieces, which fit on different parts of your body. They are sensors for your extremities, which coordinate to figure out where you are in space. They also tell you how your limbs move in relationship with each other.
Pivot can create a 3D picture of your game, no camera needed. The information is available immediately for your review, but can also load into the cloud for a coach to review from anywhere in the world.
It is unlike any other tennis-specific wearable but reminds us of other fitness wearables out there. The Moov ecosystem is a software update away from offering this level of feedback, but Notch is the same basic concept applied to other activities.
We'd be lying if we didn't say that last one excites us the most. Expect to see more examples of the technology we find in Pivot coming from other wearables in 2017.
The next generation of this type of wearable will be smaller. In time, we will have the option to analyze our movement all the time.
This is huge for athletes, as their movement off the course can be just as important. In the future, wearables like Pivot will keep us in a training mode all the time.