Increasingly busy lifestyles mean that fewer of us have the time in which to dedicate ourselves fully to a workout routine and as a...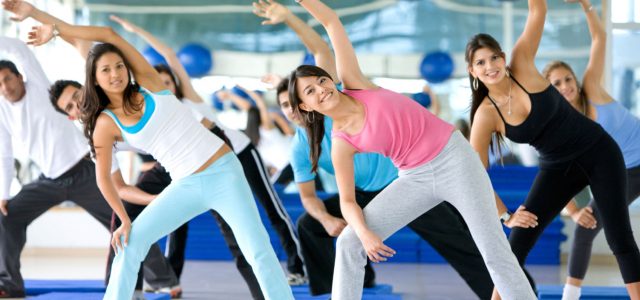 Increasingly busy lifestyles mean that fewer of us have the time in which to dedicate ourselves fully to a workout routine and as a result, our health can suffer for it. When working and social commitments pile up on your plate, making the time to hit the gym can seem ever difficult and before long, you might be tempted to throw in the towel completely. Luckily, however, there are countless other ways in which to get fit; it's all about changing your perspective. While the gym might a great way of working out your muscles, you can just as easily improve your health by getting fit at home and with these exercises, you will be on the road to better fitness in no time at all.
Aerobics DVD
Do you have trouble getting motivated for a workout? You might want to try tapping into the world of technology and investing in a good workout DVD. Following the instructions of a trained fitness expert is a great way to ensure you're getting the most out of your exercise and approaching different regimes in the right way. Now, many videos include longer sections of cardio training, helping you to work up a sweat and strengthen the pumping power of your heart. After one session, you might see the videos in an altogether different light.
Dance It Out
Did you know that dancing can help to burn off those extra calories and let off any steam? Getting down to a good beat might feel so great because it helps you to let go of tension, work through any anxiety and forget all of your worries from the working day! Try turning up the volume after a long day at the office and dancing like nobody's watching in your home. While you can start off with a selection of a few songs, you can soon increase your workout time, helping you to get in the best possible shape with very little effort!
Take The Stairs
Do you live on the top floor or have a house with stairs? You could have access to a very effective mode of exercise. Running up and down the stairs will not only help your heart to get pumping but also, it will work your leg and core muscles, strengthening your lower half as you sprint. If you're working out in your home, limit yourself to the lower 2 or 3 steps and get jogging. The more that you practice each day, the fitter that you will become!
Active Exercises
If you want a full body workout, then fitting in a few active exercises can be a great way to whip yourself into shape. Doing exercises like lunges, burpees, squats and jumping jacks can be a great way to fit a cardio workout in after or before work and help to tone up your muscles in the process. Try writing yourself out a routine and sticking to the same number of repetitions each day. As you start to find the program more simple, up the number of times you undertake each exercise. You're in charge of your routine and it's up to you to push your body to the limits!