"How do you like your tracker?" asks the cashier at the grocery store. Ugh. You so wanted to talk to random people about your...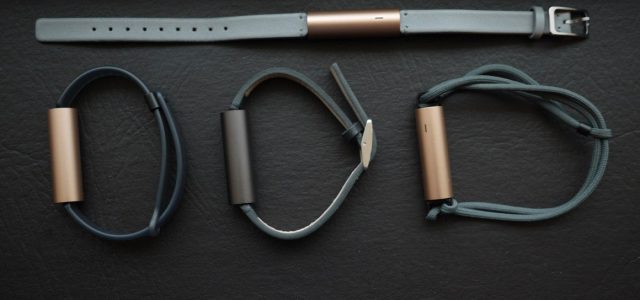 "How do you like your tracker?" asks the cashier at the grocery store.
Ugh. You so wanted to talk to random people about your fitness tracker over-and-over… except, no.
Thankfully, you don't have to look like an early adopter to be one.
Here are five fitness trackers, from the most affordable to the most expensive, which you can wear in public where nobody will know you're tracking anything.
By the way, if you're wondering why the Apple Watch isn't listed, try wearing one for a day. Good luck getting five feet without someone asking you about it.
99 Bucks That's all you need to add some stylish fitness tracking to your life. The Ray works with iOS and Android. If you are familiar with the Misfit Shine 2, then you know this band, except the Shine, looks like a fitness tracker or a watch you've put on backward. Unlike the Shine, the Ray can be worn with other bracelets or a watch without looking odd. A slim metal tube of rose gold or carbon black surreptitiously houses technology tracking your steps, distance traveled, calories burned, sleep duration and quality.
The Mira works with iOS and Android. The Mira bracelet is marketed towards the female clients, but could be worn by a man who likes a little bling. The style is a clean metal band which wraps halfway around the wrist, topped with a large stone where the technology is housed. That tech will track the number of steps you've taken, the calories you've burned, the distance you traveled, the elevation you've reached, and your step pace for the completed activity.
$99.99. The UP2 works with iOS and Android devices. The UP2 adds activities like distance traveled, calories burned, active time and idle time to previous Jawbone technology. Jawbone makes a UP3 and UP4, but the UP2 is the least fitness-tracker-looking one of the bunch. Get the black and silver one to fly low.
$169. For just another 70 smackers, you can stick with the Misfit line of fitness trackers, but wear something with a lot more bling. It even works with iOS and Android. The Swarovski Shine won't do much more than your Misfit Ray unless you count drawing more attention to you than if you just wore a tracker. Of course, with the Shine, they won't be asking about your fitness results. They'll just compliment your bauble.
$169.95-199.95. The Steel works with iOS and Android. On top of faking their own Swiss made Sapphire model for much cheaper, the Activité Steel allow users to run, walk, swim, or dance the night away without their phone, 24/7. The Steel will even track your sleep and even give you coaching. Their site brags, "No buttons. No lights to unscramble. No need to check your phone at every moment." As far as anyone is concerned, you're just a stylish watch person.
$295-325. Available in gold or palladium, the Wise Wear line actually includes three different styles of the same bracelet, in two different alloy options. These trackers are easily the least fitness-trackery of the bunch. In contrast to the Swarovski option, these actually pass for classy. The Socialite tracks your activity, provides real-time mobile notifications, and serves as a safety device with a unique distress messaging feature.
Mondaine Helvetica 1 Smartwatch
$899.00 The Helvetica 1 Smartwatch works with iOS and Android. True Swiss craftsmanship by a brand with a name in watches. However, don't expect a ton of fitness tracking. Activities like steps, calories and distances will be tracked, but the watch will mostly do a good job of telling time. If subtly is your goal, then this watch will certainly throw the scent. Most will be too intimidated to ask you the time of day, even though you're the best person to ask.
That's a huge spread of options, from $99 to $900. These fitness trackers won't necessarily turn you into James Bond, but they might make you feel as cool. They'll definitely get you through the checkout lane without being grilled. Track on.
Track on.