Once upon a time there was the GoPro, then the market exploded. Today's action cam market is overflowing with contenders. Action cams today offer so...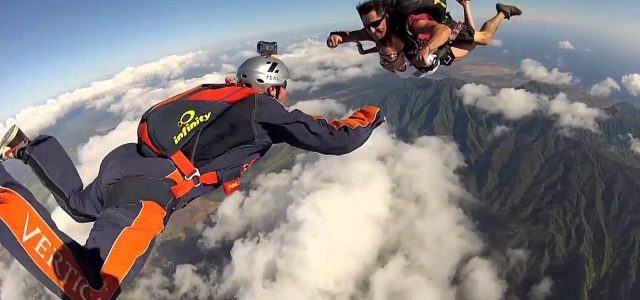 Once upon a time there was the GoPro, then the market exploded. Today's action cam market is overflowing with contenders. Action cams today offer so much more than yesterday's cams. I was never able to strap my VHS camcorder to the front of my surfboard, despite all the duct tape in the world.
Most smartphones offer a decent recording experience now, but fat chance you will attach your precious communications device anywhere that it may get wet or broken. That thing goes deep in a pocket or in your bag, wrapped in silk.
Besides, your phone is too busy cranking tunes to record video. No, you need an action camera.
Price is the biggest challenge to most buyers, so we've pulled five solid cameras that you can purchase for under 200-smackers. All of these options have at least 1080p, and all but one offer some waterproofing.
Xaiomi Yi
Amazon Price: $88.00
Resolution: 720p, 1080p
Weight: 2.5 oz
Waterproof: 0 feet
Let's get this out of the way first. Remember way back when we mentioned one of these cameras is not waterproof. It's this one.
You'll notice that this is the also the cheapest of the bunch. In fact, pound for pound with features, you would be hard pressed to beat it for the same money. You may need to buy an aftermarket waterproof case, though, if you want to take it surfing.
You may recognize Xaiomi as the manufacturers of the Mi Band, another surprise contender in the wearables category.
The Yi offers consumers a wifi enabled camera with a standard tripod mount, and a quality chip, but cuts memory from the list. You'll need an SD card. For photo and video capture, it has more settings than you will probably use.
Polaroid Cube
Amazon Price: $90.00
Resolution: 720p, 1080p
Weight: 1.6 oz
Waterproof: 6 feet
Small and lightweight, the Cube cuts out much of what other action cams offer, but still keeps out water down to six feet of depth. That said, you probably don't want to submerge it.
The Cube is rugged, but not good for surfing without a waterproof case.
On board you get a button and lens, that's about it, but what else do you need? Hopefully not a standard mount. The Cube has a magnet for a mount.
The Cube may not make a huge dent in GoPro's lineup, but GoPro did come out with the no-nonsense Session version of their camera around the same time as the Cube launched.
Maybe it was the Polaroid name that scared them, who knows?
Kodak PixPro SP1
Amazon Price: $165.89
Resolution: 1080p
Weight: 5.4 oz
Waterproof: 32 feet
Priced higher than the stripped down Cube, but offering a real waterproof experience with more features, the SP1 is a worthy consideration for someone in the discount market who wants a little more.
The SP1 offers something rare in an action cam, a display. You'll pay for that glass, though, in weight. At 5.4 ounces it's the heavyweight on this list. That won't matter to surfers, but may bother bikers or hikers.
Built rugged the SP1 feels like it will take a licking but keep ticking. Because there's a screen, you can also navigate a menu using one of five buttons: power, ok, record, left and right.
The mount is a standard tripod screw hole, but you can buy an accessory pack with additional mounts from Kodak.
GoPro Hero+ WiFi
Price: $195.09
Resolution: 720p, 1080p
Weight: 4.3 oz
Waterproof: 131 feet
It's true, GoPro is on the Hero 5 as of this writing. That means the older versions of their cameras are more affordable.
Considering the first GoPro is more action cam than most people on this planet have, then the plus version of GoPro's flagship lens is worthy of your time.
On this list, the Kodak SP1 comes close. Out of the box, this camera goes deeper, 100 feet deeper over the next in line.
You don't get the Kodak's display, but you also don't have to pay for the weight of that screen. Plus, GoPro has never been about screens.
Of course, you'll live in GoPro's mounting eco-system, but at this point, it is nearly as standard as the old tripod mount found on regular cams.
GoPro Hero 4 Session
Amazon Price: $196.00
Resolution: 1080p
Weight: 2.6 oz
Waterproof: 33 feet
Call this GoPro's response to the Polaroid Cube. You could also call it your slightly more expensive, but waterproof alternative.
You even get one more button than the Cube, a shutter in addition to your power button. The tiny display gives you basic information, battery, and memory. Session comes with 64GB of memory.
Like the rest of the options on this list, this GoPro does not offer 4K resolution, but if that mattered to you, then you wouldn't be shopping discount action cams.
Still, you will be happier with the video shot on this over the Polaroid.
Each of these cameras offers a decent entry level experience to someone on a budget.
The good thing about shopping the discount versions of products is that when something dramatic happens to your device you can consider that the time to upgrade.
By then you will know if this a must-have product in your life, plus you will have the experience to know exactly what you want from your next device. If nothing happens to your action cam, then you can sell it to someone else looking for a deal or use it as your back-up.
Either way, it's a win.