The day we went full baby, was the day wearables crossed a line, maybe. I really didn't mean to make that rhyme. We were...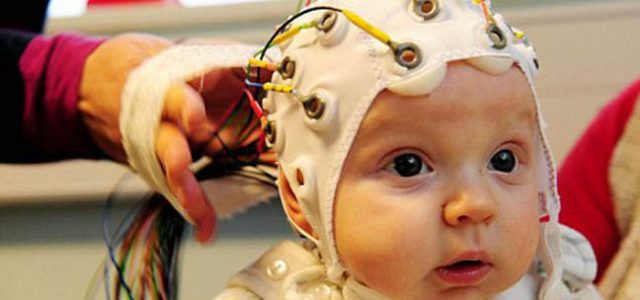 The day we went full baby, was the day wearables crossed a line, maybe. I really didn't mean to make that rhyme. We were all fine and dandy with the wearables market creating tools to track everything from sun exposure to better volleyball playing, but when they brought babies to the changing table, parents became suspicious.
Are these toys just gimmicks to shame our parenting? Doubtful, but they are pretty neat.
Most of these are aimed more at the parents than the kids. Who am I fooling, they're all aimed at parents, but for many of these wearables, the baby will never actually wear it on her skin. Relax.
Everything is going to be okay. This is the tomorrow you worried about yesterday.
There was a time when, if mom wanted to play tunes for her unborn baby, she had to destroy a pair of perfectly good headphones, stretching them over her belly. Not only that, she wouldn't be totally sure if those tunes were blasting the amniotic fluid off her uterus or not.
Ritmo, Spanish for rhythm, has solved this dilemma. They've designed a belt that stretches over Mom's belly, outfitted with four premium mini speakers, designed to lull baby with your choice of music.
The advanced version comes with a digital acoustic technology, which learns the patterns of the sounds in order to limit the decibel levels. Yeah, it customizes your baby's tunes. Let's see your home entertainment system do that.
The original Ritmo runs about $80, and the advanced is about $140.
There may be no developmental advantage to playing your baby Bach, but the right music played softly couldn't hurt.
Using Bleep Bleeps proprietary app, paired with Ultra Stan, you can see and hear your unborn baby in your womb.
The app allows you to focus the image, record footage, take stills and audio samples. You can stay in contact with your baby the entire pregnancy.
Bleep Bleeps has an entire line of products aimed at parents, and their babies, even as those babies grown into children. The Ultra Stan offering is a really smart leader for getting you onboard, as you will be sure to want everything else they have, but it seems worth it.
Why not? Why shouldn't parent have the ability to stay close to baby the whole way?
Sadly, you're going to have to get in line. This product has not yet been delivered, but you can get on the list.
https://www.youtube.com/watch?v=kfdCaUr_7II
Arguably the best blend of the first two in this list, the Bellabeat allows you to listen to your baby's heartbeat and play music to her.
It's barely a wearable, though. It's more like a bearable.
Bellabeat makes the concern of being expecting parents bearable, by letting you listen in whenever you want. Using Bellbeat's app, you can record what you hear, then share it with friends.
Bellabeat is designed to have value after Baby is born, turning into an attractive baby monitor.
The Shell can identify seven different types of crying, then empowers you to do something about it. It even goes so far as to monitor the climate of your home for temperature and humidity. How's that for robust?
Ripping a page from the book written by Ritmo, Bellybuds let parents play tunes, white noise, Mom and Dad's voices or whatever is desired for baby to hear.
The buds are discreet, fitting under clothing, requiring no straps or belts. They stick to the skin using the same kind of technology hospitals use for monitoring, medical grade adhesives.
Of course, there is an app that goes along with BellyBuds, which is where you get to pick what is safely played to Baby.
If playing tunes for your baby doesn't warm your heart enough, know that with every purchase of Bellybuds, a percentage of the purchase goes towards the Children's Hospital Los Angeles. You're helping more than just your child.
82% of your brain's growth occurs before age three. The best food for that growth is food. Starling attempts to help parents leverage this knowledge, designing a wearable for babies that counts words in real-time to help parents talk more. The more they talk, the more Baby's brain grows. It's that simple.
Where the first four wearables in this list were as much about Mom and Dad's lifestyles as they were baby's, the Starling is all about Baby and the adult that Baby will be someday
What's almost more interesting than the product, is the story of how the founders starting looking for opportunities to help college students learn better by starting with where they could help high school students, but then moved down to grade school students, and eventually babies.
For $199, you can pre-order Starling. As of this writing, it will ship around August.
The great thing about these wearables is they have no ulterior motive to hook your children on wearables. These are not fitness and health trackers made child-sized because that would be gross. They're all tools designed to make parenting easier, more fun, and more rewarding.
Why not? You and your baby deserve every opportunity you can make for yourselves.