"Google Glass will help fight the antisocial and "emasculating" habit of compulsive smartphone checking." – Sergey Brin Sadly, for the company now called Alphabet,...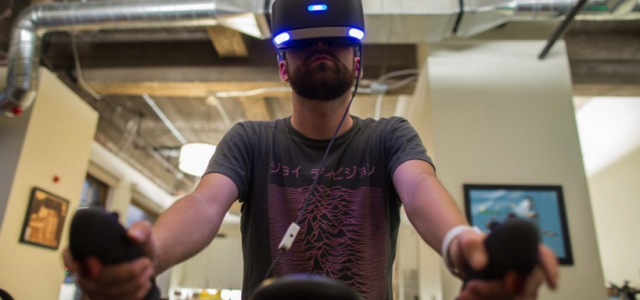 "Google Glass will help fight the antisocial and "emasculating" habit of compulsive smartphone checking."

– Sergey Brin
Sadly, for the company now called Alphabet, Google's mad dash into wearables was not life-changing. Maybe that's because there was no health or fitness trackers in Glass. Perhaps if Glass' focal point were health tracking technology instead of the creepy camera, they could have made it.
Thankfully, wearable technology is alive and well, especially in the health tracking category. Case in point, we recently featured 10 calorie counters you may already use. Whether you rock one yourself or know someone who does, chances are good wearables are touching your life.
It's certainly touching hers.
If manufacturers can make wearables that users can't live without, wearables that aren't just cool-looking, but improve a user's wellbeing, then they will survive where google failed.
Here are four in the wrist category, which are the latest tech from well-known brands. For the most part, the upgrades from prior models attempt to do a couple of things: last longer on one charge and track your every move better, including sleep. The order here goes from the low end to the high end in cost.
Wrist-worn Wearables
Misfit Flash At $29.99 the Flash is the lowest cost of the bunch. It's also the newest kid on the block. What the Flash lacks in history and fancy displays it makes up for in value.
Available in five colors, the Flash wears as a wristband or a clip. It measures calories, steps, activity and sleep behaviors. It's simple, tough, but also water resistant to 30 meters.
The low cost, ease of use and form factor, combined with a six-month battery charge means the Flash will stay right where it's supposed to – your body.
Garmin Vívofit 3 As the third in their popular Vivofit line of wearables, this device presents all of Garmin's best fitness tracking technologies (calories, steps, sleep, and more) in one compact wearable, starting at $99.99.
While other similar bands have batteries that last for days, the Vivofit 3 last for one year. This means the Vivofit is likely to stay on your arm, instead of the charger.
Jawbone Up3 :To be fair, this isn't the apex of Jawbone's offerings; there is such a thing as an Up4. For an extra $20 ($199.99 over the standard $179.99) the Up4 can do everything as the Up3, but can also connect to your American Express for express checkouts.
Apparently the goal isn't just to make you move fast through your workouts, but also the checkout line.
The 3rd version of this wearable adds five features over the first iteration, including advanced sleep monitoring for separating REM from light or deep sleep. This is key if you consider sleeping a crucial cornerstone to your fitness program, which it is.
Fitbit Blaze : Fitbit has been on the wearable scene from the beginning of the surge, back when their best product was a glorified pedometer.
At $199.99, this iteration from Fitbit may take a bite out of the Apple watch ($299.00) market. The Blaze lasts for five days on one charge, compared to seven days on the Jawbone Up3, but it tracks user's sleep just like the Up3.
Off the wrist…
Getting off the wrist is where we will see wearables really start to change our lives in ways we haven't experienced. These next three may be just beyond your reach for right now, but don't worry. If these companies have their way, things won't stay that way.
Bragi Dash: Who would have imagined headphones could join the wearables market, but why not? The Dash are just what we've been waiting for, buds without wires, but more.
The Dash to not only play your tunes but also allow in outside sound, and track your activity as you go. They are essentially earbud fitness trackers. The technology is in its infancy but promising.
VR Zoom: Combining virtual reality (VR) with cardio, the VR Zoom is cutting edge technology that allows you to ride a pegasus instead your stationary bike.
At least, that's what you will think as you look through the headset. Getting out of the gym, even if it's virtual, may be what we need to make exercise something we want to do. You can preorder from their site for $399.95.
"eSight is wearable, handsfree, portable – and most importantly, eSight is a non-surgical device. eSight is currently registered with the United States FDA and Health Canada."

-From the Esight Eyewear site
What is it? Did you ever watch Star Trek's The Next Generation? These aren't quite that advanced, yet, but the same basic concept is there. For someone who was once relegated to walking with a cane, avoiding chaotic places like the gym, the eSight could restore that person's active lifestyle. That person could potentially go for a jog on the street if he so desired.
The way it works is, Eyesight captures video and replays it on OLED screens directly in front of the user's eyes. In many cases, this is enough to break through most conditions. Albeit in a less elegant package, the eSight does what Glass failed to. It has a fundamental impact on user's needs, in this case, the health and wellbeing of the user.
It seems our current health tracking technology scratches the surface of what is to come. In the future, we expect continued improvements in battery life, smartphone integration, sleep tracking and more. Future wearables will measure calorie intake or help us make better dietary choices. Maybe they'll even help us understand interpersonal relationships by analyzing our physical responses to others. This conversation could get very interesting.