The question to ask about smart rings isn't whether or not we will have them. We already do. The real questions on the table...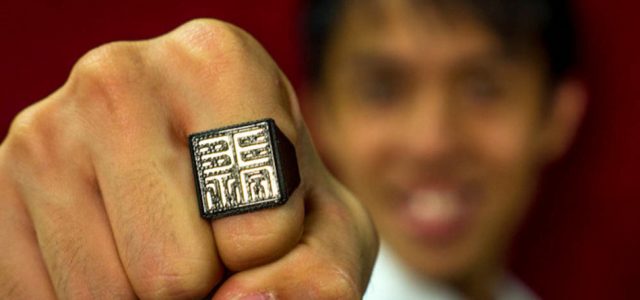 The question to ask about smart rings isn't whether or not we will have them. We already do. The real questions on the table are, who will wear them and why?
As wearables, rings are notoriously vaporware. Most promising rings we hear tale of, become nothing more than failed crowdfunding campaigns.
Here are seven wearable rings that could change the way you live your life, that you can either order or pre-order right now.
Probably the most ambitious of the bunch, the DOI attempts to go where smartwatches go, decreasing your need for checking your smartphone. It has a tiny display, with which users can interact. Vip controls allow users to limit notifications, not just from apps, but from contacts.
Voice activated, like Siri, but not for iOS, the Aring pro ring is for Android users only. The ring allows users to connect with their phone and household devices by talking to the hand. It will even handle dictation or search the Googles. On style, less obtrusive rings have been designed, but not bad for the version one. The question is how many of us would be comfortable talking into our hand?
Available in shiny white or matte black, Ring Zero can interact with your smartphone to play music or take pictures. This is all done by hand gestures executed in the air. Similar to the Aring model, users can control electronics, and of course, use it to tweet. The ring integrates with Facebook and Twitter.  Ring Zero is not waterproof, so take it off when washing your hands, but it will pair with Android and iOS. Battery life is twelve hours.
Get your life back. Aimed at the ladies, but fellas you can wear one too, the Altrius is an iOS only bauble, designed to minimize looking at one's device. The rectangular-cut, mounted zirconia device, can be fitted onto a ring, necklace, or bracelet. Battery life is about a month on one charge and it's waterproof. Plan to spend at least $345 to get started.
The less expensive alternative to the Altrius, starting at $195 Ringly is a stylish notifications manager. Yes, men, you may wear whatever you want, but Ringly's core audience is women.The Ringly ring may be less costly than Altrius, but the stones are real gemstones, conflict-free even. Where Ringly may have Altrius beat on flexibility, working with Android and iOS, the Ringly ring is less durable. It's not waterproof, but it will take a splash. It also won't last a month on one charge. One charge lasts for one or two days.
From the company, Ring Theory, the Sesame ring is the first and only ring at this time that will enable users to ride the metro. Currently, that includes only the Massachusetts Bay Transportations Authority, but could theoretically be expanded. The ring itself is rather modest in design and price. It's $25 to purchase. Users load it at a kiosk, like adding credit to a more traditional metro card, then fist bump the turnstile to open doors. Cool. Best of all… leave it on and never forget your metro card again. It's even waterproof, so leave it on when washing your hands. One more cool thing… the rings are 3D printed. Dope.
Open source, the NFC was designed to be stylish and versatile. It can engage just about any Near Field Communication (NFC) device out there, so long as the right software is loaded. This ring is a developers paradise. It can unlock  doors mobile phones, transfer information, link people, and more. It's water resistant, so you can shower with it, but what's really crazy about this ring is it never needs to be charged, ever. Rings start around $50, coming in several styles. The sad news, if you like iOS you'd better hold your breath. Apple offers NFC technology in the iPhone 6, but the API is heavily guarded.