With a month left in their Indiegogo campaign, the Air earbuds by Crazybaby has already smashed their campaign goals. They're simple promise: we'll deliver...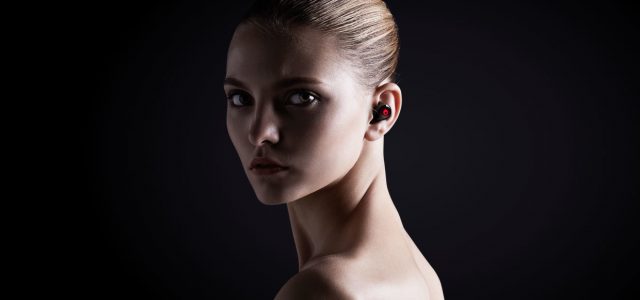 With a month left in their Indiegogo campaign, the Air earbuds by Crazybaby has already smashed their campaign goals. They're simple promise: we'll deliver revolutionary sound in a better cord-free earbud design. They aren't even shy about who the other guys are. It's Apple. It's Bragi. It's Samsung. Crazybaby plans to clean the floor with all of them.
We have to admit, the first thing we thought when we heard about these was, really? The hearables market seems pretty saturated with options.
Bragi made multiple headlines this year, with the Dash, then the low-cost, no-nonsense Headphone versions of the Dash. More recently they've introduced an upgrade to their OS that allows face-tapping navigation.
What else could a hearable offer that we didn't already have?
Um, try an improved speaker architecture, Bluetooth 4.2, and virtual assistant support, all in a perfect package. In the end, Air aims to be one thing your wireless headphones are not: better.
Better Sound
Say it out loud: carbon nanotube technology. It sounds good even in analog.
This is the Air secret sauce to improve on what's been passing for Bluetooth audio. It may have been our rush to go completely cord-free that caused us to sacrifice the one thing headphones must do.
They have to play our music in such a way that it's desirable. Nobody wants to listen to flattened out tunes. Without the highs and low, music sounds more like sadness.
Not with Air. The frequency range is wider than anything else in the category.
Plus, the carbon nanotube diaphragm of each driver is individually manufactured to prevent production errors that may occur in mass production.
Better Technology
They won't measure your heart rate. You've got them there, Bragi and Samsung. They do however, offer Bluetooth 4.2.
To get this higher speed alternative to 4.1 or 4.0, one must install hardware. There is no software upgrade.
Bluetooth 4.2 runs with improved battery efficiency. Speed increases by 2.5 times the speed of other Bluetooth options. You get ten times the data volume of 4.2's lesser counterparts.
All that speed means your music doesn't lag traveling from your phone to your ears. There are no breaks in the magic. In fact, Crazybaby promises that you will never drop the connection to your phone so long as you are within range.
That's a lot to promise.
Better Software
The driver design and Bluetooth found in Air is enough to push the sound over the top, but there's more. Whereas Samsung's Gear X earbuds won't work with iOS, Air works on both Android and iOS.
Connection to your phone is a snap. You just press the on button.
Because the connection to your phone is seamless with Air, you can talk to Siri, Cortana or Google whenever you need to. That way you don't have to stop whatever you're doing to get some help.
Better Package
All this would be for naught if Air didn't stay in your ear. While we can't speak to a hands-on experience, Air appears to be better designed to fit your ears.
It's impossible to fit every ear, but Air comes with a variety of sleeves and tips. Crazybaby labored to create a design that fit as many ears as possible.
One thing's for sure, unlike the Apple option, Air does not rely on your anti-tragus, that divot in your ear, to hold in your buds. They snug into the back of your ear.
We are curious to put these through the paces of a sweaty workout. This writer has yet to wear a pair of Bluetooth buds that stay in during high-intensity interval training.
We're hopeful for these buds. It looks like they will have plenty of cash to make our wildest Bluetooth fantasies come true, so we're not worried about that.
It is the long-term reverberations of headphones that determine their staying power. If they break soon after purchase, that's no good. If they don't stay put, that can also put a bullet in their reputation.
For Air, it's gonna come down to these factors and sound quality. You can't claim to spit mad game only to choke when they turn on the mic.
Fingers crossed.
Meanwhile, feast your eyes on this sexy video from Crazybaby.