Speaking of cool, Virtual reality (VR) is just about the coolest thing coming down the wearables pipeline. For a nascent technology, the first iterations have been...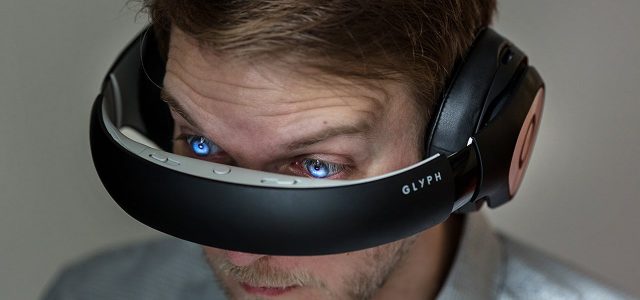 Speaking of cool, Virtual reality (VR) is just about the coolest thing coming down the wearables pipeline. For a nascent technology, the first iterations have been pretty compelling, except for one thing: portability.
If you want to have the option to go virtual at any time, you'd better be okay carrying around some clunky equipment.
Simple designs like Google's Cardboard or the Samsung Gear VR at least can be carted about pretty easily, but you will compromise speed and experience. Plus, the field of view on those platforms is limited.
If you upgrade to something like the Oculus Rift, then you're going to need your powerful laptop along with your bulky gear. Avegant's first VR product, Glyph, lands neatly in the soft middle ground between these two experiences.
It's nearly as portable as headphones (certainly just as sexy), demonstrates an unprecedented user experience via revolutionary technology, but also offers practical application with many formats.
Design Elements
The most striking thing about Glyph when you first see it is the design.
The immediate association is Beats by Dre, but there is something a little different. It's the addition of the visual aspect, but also it's the simple, clean lines.
Unless the user was wearing Glyph across his eyes, you would probably just dismiss it as another pair of over the head cans.
In the viewing position, Glyph looks natural and lightweight. It rests on the nose via a variety of nose pieces you choose to fit. They also offer an auxiliary head strap to hold the cans to your ears while you watch.
Early reviews indicate that this strap is probably necessary for anyone planning to view something for more than an hour or so.
Technology
Avegant has attempted to recreate natural sight with Glyph, so the optics do not utilize a traditional screen like most VR headsets.
Their technology is patented, called Retinal Imaging Technology, which basically means mirrors and lights to make your eyes believe they are just seeing something in the real world; "More like seeing than watching," according to Avegant.
Because the imaging uses light instead of pixels, Glyph works without your corrective lenses. It focuses for your eyes. This, in turn, reduces the eyestrain associated with other headsets.
The field of view can be expanded to 360-degrees for full immersion, depending on the medium. Those mediums could include broadcast television, streaming video, games or whatever you can pipe through an HDMI cable.
There are no proprietary content restrictions with Glyph.
Practical Application
The Glyph headset tracks head movement like most VR headsets, so many will lean towards the VR applications, but Glyph was not intended to completely remove you from the real world.
It integrates your experience with the world around you. The view is not light locked, so you will be aware of some events happening outside of Glyph.
For users intending to use Glyph to watch movies on airplanes, this may be somewhat distracting, but not more than trying to watch on a laptop screen.
At least with Glyph, you don't have to worry about the kid next to you watching over your shoulder.
For a first round product, Avegant is on to something. What may be more interesting than Glyph itself will be Glyph 2.0, which is sure to be out in the coming years.
We predict they will take their lessons learned from this first round and come out with a category killer product, assuming they don't float out to the island of misfit wearables.
That, would not be cool.