First, they made a wearable for your fur baby, now they want to outfit your real baby. Garmin's Vivofit Jr is a pint-sized version...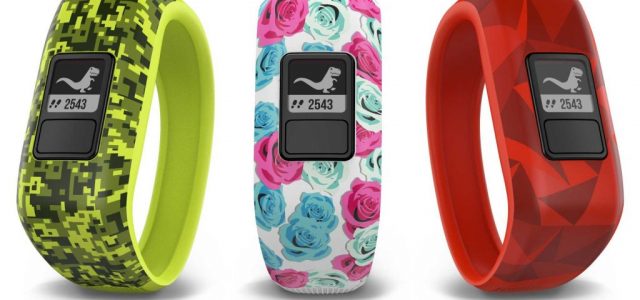 First, they made a wearable for your fur baby, now they want to outfit your real baby. Garmin's Vivofit Jr is a pint-sized version of the Vivofit 3, decked out in funky colors, sturdy enough for your rambunctious ones.
Re: That fur-baby comment. If you didn't read about Garmin's Doggy Wearable, check out Game Over: Doggy Wearables Were Inevitable.
The Vivofit Jr is not only kid sized, kid-colored, and kid-proof, but it will help your kids stay active by playing games, earning rewards for their efforts.
They won't even know they're exercising. This ain't no McDonald's wearable. It's Garmin.
Games
They were going to play anyway. The Garmin Vivofit Jr gameafys that playtime.
The daily play target is 60 minutes. When your kids hit this target, the device shares a fun fact.
Adding to that, you can load in chores or behavioral activities like brushing their teeth, which once completed, award the kids with virtual coins.
You set the terms for the reward amounts and the payouts. Those coins work towards the purchase of in-app rewards.
As a failsafe, you can bake in deadlines for coin-earning activities. You can teach your kids the value of staying on task, handling their responsibilities all while they burn energy playing games.
It almost sounds too good to be true.
Fitness
It's hard to imagine those little energy factories needing stimulation to move, but children are on the downswing for activity.
Starting them early maintaining an active lifestyle may help prevent them from developing sedentary habits in their pubescent years.
The best part is they aren't running laps around the backstops, knocking out buries or any of that boring adult stuff called exercise. Unless they're completing tasks, they're playing.
That may have you asking, why don't they make one of these for adults?
(They do, goofball.)
Design
Unlike most adult bands, the Jr doesn't adjust. It slides over your kid's hand, then stays put. You just pick the size and style that works.
Styles include real flower, digi camo or broken lava. [floral, camouflage or red triangles.]
Alternatively, they can drop the device into an adult band if preferred. It's swim friendly, of course, because kids get wet.
Tech
You don't have to rely on your kids charging their Vivofit Jr. in fact, they cannot. It comes with a one-year non-rechargeable battery. When it dies, it dies.
At $80 purchase price, that means you spend less than $7 per month to improve your child's health and self-discipline. That's less than most single trips to Starbucks.
The tracker counts steps, activity, total sleep and sleep movement. It houses a watch, stopwatch, task timers, and sounds audible alerts.
Like all Garmin products, the Vivofit Jr works with iOS and Android devices.
What the Vivofit does not do is track your child's whereabouts.
This is, IMHO, a huge miss for Garmin. This is the company built on mapping technology. GPS would add some heft and cost to this device, sure, but it would have made the Jr a category killer.
By the time version 2 comes out, they could be outpaced by another band.
Still, buyers may gravitate towards a name they know, Garmin, which could put that version two out next year. That would be right around the time when the first round of batteries die…
I see what you did there, Garmin. Tricky, tricky, tricky.