Unless you want to run, cycle or swim with your smartphone, you have an only a few affordable options for tracking your activities via...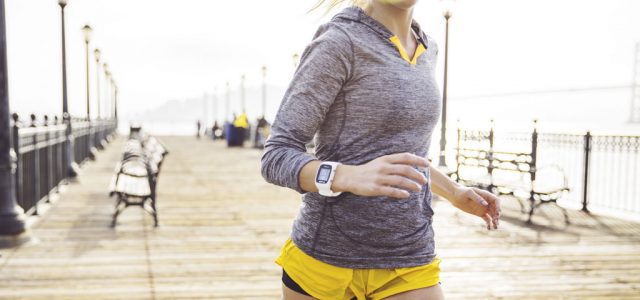 Unless you want to run, cycle or swim with your smartphone, you have an only a few affordable options for tracking your activities via GPS.
Affordable is a relative term with today's technology. It comes down to what are you willing to pay to have what you want on your run? Need music? There is only one GPS-enabled device in this line-up which will let you rock your while you run.
To save on build costs, most of these manufacturers have cut corners on materials so don't expect something you can wear from the track into the boardroom.
Also, GPS burns calories; watch calories. If you leave the GPS tracker on, don't stray too far from a power source. You will need to recharge.
Without further adieu, your four GPS fitness trackers under $250…
$249.99 Now $219.99
In addition to telling time and tracking general fitness activities, the Garmin Vivoactive menu offers a dizzying lineup of trackable activities: running, cycling, swimming, golfing, and walking.
It will track your daily steps and sleep too, but unlike many devices in this category, it will send you notifications from your phone. But, it will help you locate said phone if you've lost it. It won't, however, keep track of your heart rate unless you pair it with a Garmin chest strap.
The watch design is a basic black, but thinly fabricated square of touchscreen technology. It's wide, but it won't mishaps your shirtsleeve with bulk. According to Garmin, the watch will last for ten hours on one charge.
Users report it feels comfortable on the wrist.
$249.99
Perhaps, not the most stylish of the bunch, but few fitness wearables will pack music and GPS into their devices for under $250. Most runners or cyclists are forced to bring a operate MP3 player or their smartphone if they want accurate heart rate data, GPS, and tunes.
The Spark will also track activities, like steps, active minutes and calories, but you have to wear the device to get that data, and like we said, "not the most stylish."
The Spark is bulky, doesn't offer a touchscreen, but gets praise from wearables.com for having an easy to navigate the menu with a user-friendly interface. You can program your runs with the option to run against yourself if you desire.
Battery life is about five hours, which is low even by Apple Watch standards. Oh yeah, and that MP3 feature? It's Bluetooth enabled.
Rock on.
$249.00
Pushing the FitBit lineup into a more robust package option, the Surge was their most advanced tracker at the time it was released. It will track activities like running, cycling and working out in addition to the usual suspects: heart rate, steps, distance traveled, calories burned, floors climbed, elevation and active minutes.
It's also waterproof, but not be used for swimming, whatever that means. Data is displayed right on the devices face, which is a somewhat crude square touchscreen, but gets the job done. You don't have to look at your phone to see your data.
Similar to the Vivoactive, the Surge will forward notifications from your phone, but just call alerts, missed calls, and text messages. For this device, that's probably more than you need or want. Battery life is 5-7 days.
$183.73
If anybody gets billed as the great-grandaddy of wearables, it's Polar. They were tracking fitness long before it was trendy, with watches and chest straps.
With the M400, Polar entered into the greater fray of wearable technology, attempting to pull the best parts of fitness tracking and GPS. At $183.73, they've done quite a nice job of it.
Compared to the other three on this list, the Polar entry has a lovely interface and design element. Also, while the Surge claims to be water-resistant with a caveat from the manufacturer that you shouldn't swim with it, the polar is actually made to go in the water up to 30 meters.
It does not, however, track your heart rate unless you pair it with a Polar chest strap. Was it will do, is track distance, pacing, altitude and calories burned. It will track your steps and sleep. Using the GPS feature, you'll get about eight hours with the M400, but closer to three weeks using just the other features.
Runners on a super tight budget and those who wish to track swimming will probably consider devices like the Polar. Those wanting to have a little bit of everything will consider the TomTom Spark, but for users who want a device that is slim, the Surge or the Vivoactive may take first place.
Whichever works better for your needs and budget, at least you won't have to run with your smartphone on your arm or banging around in your pocket.