Partnering up with Intel, Oakley just introduced a new pair of Oakley shades with headphones extending from the arms. The new shades offer not...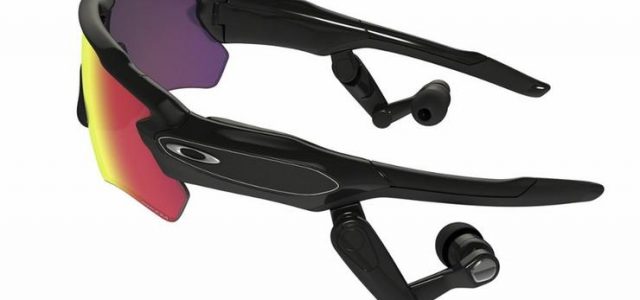 Partnering up with Intel, Oakley just introduced a new pair of Oakley shades with headphones extending from the arms. The new shades offer not only wireless tunes but virtual coaching in an Oakley frame. They're calling the new frames, Radar Pace. They look like a leaner, meaner pair of something Oakley already made, and they're gonna cost you $500 in the end.
The first thought you will have is, wait, didn't they already make something like this? Yep. They called them Thumps. There were two versions. The first were so prone to failure they released a second version, which went away pretty quickly.
Admittedly, Oakley is not the frames for this author. I've tried on many pairs. They just don't fit my face, even the more classic frames. Most of what Oakley sells I wouldn't try on. They're just a little sporty-spice for me, but that's me. Nothing wrong with sporty frames, but I prefer the classics. 
While Oakley may not the most stylish pair of sunglasses off the court, they still get on the faces of athletes. They are still duplicated in knock-off versions, sold worldwide in gas stations as the real thing. Whether Oakley is your particular go-to style or not, plenty of people still buy them, at least for the name.
The question yet unanswered is, can Oakley escape the reputation of Thumps by dumping the MP3 player weight, adding in a virtual coach? Can they sell said wearables in a very Oakley-style frame? What would failure mean for Oakley?
Thumps
First introduced in 2004, Thumps were an MP3 player baked into your sunglasses, with drop down earbuds.
Versions sold ranged from 256MB to 1G of storage, paltry by today's standards, but enough that you could load in some decent playlists. The buds on Thumps could seat into your ear or pull out for ambient sound.
Even if you didn't dig the style of the frames, the convenience for skiers or snowboarders was obvious. They were headphones that didn't fall out.
Unfortunately, Oakley didn't anticipate how much music folks would want to carry. They also didn't see the iPhone train coming down the tracks.
Coupled with product failures and warranty challenges, Oakley's Thumps didn't last long.
Radar Pace
These are no Thumps. They're a notch up on the style meter. If you put a gun to my head and said pick one over the other, I'd wear the Paces.
Thumps look like something Snipes would have worn in the movie Blade. Radar Paces, other than the arm for the earbuds, look like Oakley shades.
You have two options for lenses, clear or prism road. The latter is an iridescent purpley-yellow venture, very sporty.
The frames are a polished black plastic with the latest Oakley "O" emblazoned on the side. Hidden in those frames is the brain and sensors of the Radar Pace.
There, Pace determines data like your speed, cadence, distance, heart rate and more. Radar Pace uses this data to track and push you as you go, using a virtual coach.
They are a real wearable, not just glasses that pump tunes.
The microphone allows you to speak to Pace, but also takes calls from your phone. You also have button controls on the side if you need them.
Oakley
Begun in 1975, Oakley has been in business for over forty years. Back then, they made grips for motorcycles. In the 80's they started selling goggles and eventually glasses.
In 1995 they went public. Since then, they've partnered with many different organizations, including the US Olympic team and the U.S. Army.
In 2007, Luxottica, a much larger company purchased Oakley, adding them to their list of sunglasses companies. That list includes brands Ray-Ban and Persol.
It's these partnerships which make risks like Radar Pace possible. Oakley may take a chance introducing this wearable, but their audience is wide, even if it doesn't include this guy.
Luxottica is the Apple of eyeglasses. They can afford to fail a few times, so Oakley can too.
For my money, I'd rather wear the Zungle Panthers or more a conservative frame, bolting on the Vi headphones. LifeBEAM, the makers of Vi, beat Oakley to the hearable personal trainer market by a few months.
What will matter more for Oakley is how well these glasses hold up over time, how well they respond to complaints. Search Google for the words Oakley and Warranty to find a tattered reputation.
Despite personal preference, we back Oakley's efforts. We're pulling for the advancement of wearable technology wherever it raises its head.