Facts are facts. You have to face them. Wires are going the way of, well, the wire. We stopped messaging via the telegraph with the...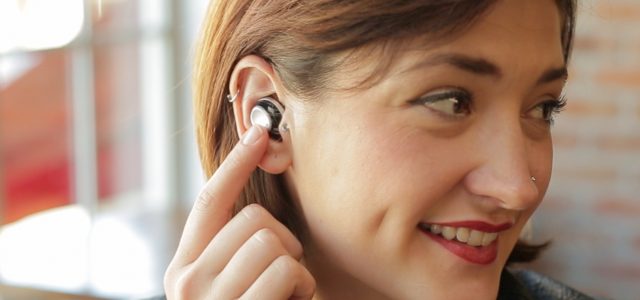 Facts are facts. You have to face them. Wires are going the way of, well, the wire.
We stopped messaging via the telegraph with the invention of the telephone. Then we cut that cord to go cellular. Yeah, I know… your parents still keep a rotary in the guest bedroom.
Despite the problems with Bluetooth, the best rumors [iPhone 7 anyone?] are we'll go fully wireless soon.
Don't panic. You still have time to fumble with those white corded earbuds for a few years, but you should give 'em up.
Nuheara's IQbuds are the wireless buds we've all been praying for, offering more than just beats. They are simple. They are smart. They allow you to mix ambient sound with your tunes.
Assuming they work as promised, these are top of my list. The good news is, they've just beat their crowdfunding target ten times over.
The Buds
Nuheara (great name) brands their buds as the first all-in-one intelligent wireless earbuds, and they may just be right about that. Similar to the Braggi Dash or Samsung Icon Xs, the IQbuds offer cord-free listening.
There's nothing connecting right with left, not physically. It sounds like a silly concession, but one of the limiting factors of most Bluetooth headsets is fitting them around your melon.
Heads are unique. Needs are too. A weightlifter may not mind a cord hanging across the back of the neck where a jogger hates the slapping as he runs.
The movement of the connecting cord can be enough to coax the buds from your canal, forcing you to shove them back incessantly, hurting your ears. Eliminating that cord means the buds have to fit perfectly, but there will be no force outside gravity pulling them out.
Read about cord-free headphones in 8 Completely Wireless Earbuds to Revolutionize Workouts.
The Perfect Mix
The world is a busy place. A danger to many listeners on the streets is traffic.
As we've perfected sound architecture, we've made headphones more and more isolating. Some of the best headphones on the market offer noise canceling.
If you're a bicycle courier, this can be problematic. An emergency vehicle could take you out before you knew it, just because you were pumping the jams.
With Nuheara's design, two mics listen to the ambient sound. Using the companion app, you can adjust the mix of sound outside with sound in your buds.
The degree to which you can adjust these two goes as far as noise canceling, for when you are in a safe place, to letting sound in as if you were wearing no earbuds. Reviewers remark that they can listen to music and still hold a conversation.
The Extras
You may expect earbuds like this to only be a one trick pony. They don't track your health metrics, but they will facilitate clear phone calls like traditional Bluetooth units. B
ecause you can control the sounds outside, they'll let you close out the world completely. This is handy on long flights or when you just want escape.
Are you hard of hearing? You can adjust for that too, using them as a hearing aid. The FAQ on their site is very clear on this. They are not a hearing aid. They are also not OSHA certified to protect your ears.
I think we can read between the lines…
If you're still fighting to keep your wired cans from 1976, then so be it. High fidelity is a beautiful thing. Get down with your bad self.
If you want to join the new millennium, considering were nearly two decades into it, then start shopping your cord-free options. Actually, don't. Just buy these. Well, put your name on the list.
They're not quite up to speed on manufacturing yet, but considering the success of their campaign, you won't be waiting long.