Not to be confused with the Garmin Doggy Wearable we just covered, the Link AKC does something a little different. Garmin's wearable trains your...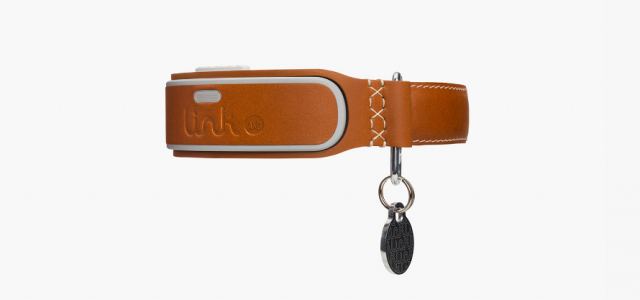 Not to be confused with the Garmin Doggy Wearable we just covered, the Link AKC does something a little different. Garmin's wearable trains your pooch. The Link AKC tracks where he goes, how active he is when he goes there, but also how warm or cold he is.
We should have seen this coming.
Let's take a look at this high-tech collar from Link. The Collar serves three functions. It will locate your pup, report on his activity, but also tell you about his comfort level. Not only that, but it's stylish as all get out, nicer than the aforementioned Garmin.
Location
For obvious reasons, finding fido is valuable. Some dogs are runners, but sometimes they get lost on large properties or in the park.
Regardless, if for any reason you want to track down your best friend, the Link AKC will facilitate that search.
It's not just some low-range Bluetooth locator either. The Link uses GPS. That means you can find him anywhere he may roam.
It's water resistant to three meters depth so if he gets wet, jumps in a pond or it rains, you can still find him.
Activity
At first, it sounds silly; track your dog's activity.
Really? Don't dogs get what they need whether you give it to them or not? If you don't stimulate them, they take it out on your shoes, right? Maybe not.
In this sedentary world of lazy humans, many dogs do not get enough calorie burn. Dogs can gain weight, which is more harmful to them than it is for us.
Weight gain for Fido not only shortens the life of your fur-baby, it makes him an expensive part of your family as he ages. Veterinarians are not cheap.
Comfort
This feature also sounded odd, like dogs needed extra consideration for comfort. We assume they just find a comfortable spot when they need to.
That is true, but they don't always have access to a more comfortable spot. They can't always tell us if they need more comfort.
A dog locked in a hot car, or stuck in a cold doggy house has few options to get more comfortable.
With the Link AKC, you will know they are too hot or too cold before it's a problem.
Design
The cherry on top for this do-all doggy wearable is the design elements.
For the most part, it looks like a nice leather collar, the kind you'd pay big bucks to own. (For the better part of $200 you could say that's a true statement.)
It's real leather, tan and lovely.
Technology 
The technology part of the collar is removable so it can charge. When in place it doesn't stick out or look like a wearable.
Hidden in the design is a tiny LED light. You can activate that light from your smartphone, lighting up the path if it's dark. The light also makes your pup easier to see, visible to cars and you.
It houses a tiny speaker, which may serve to aid you training your doggy.
It even has memory storage capabilities, so you can keep a digital record of vet visits or vaccinations for your boy. For the sentimental, it will store a scrapbook of memories you two have spent together.
Awww.
It's not fair to compare this to the Garmin device. They seek to do two different things.
That said, even apples and oranges are both fruit.
The Link AKC is still in pre-sale, shipping the end of 2016. They will charge your card when it ships. Expect the first round of production will run short, so get in now if you must have it.