Because we just didn't have enough options for headphones to pump our workouts, we now have one more pair to consider. I can save...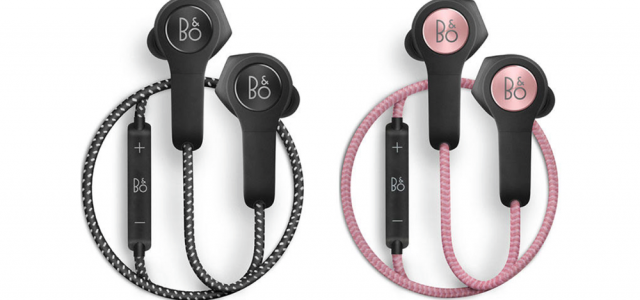 Because we just didn't have enough options for headphones to pump our workouts, we now have one more pair to consider. I can save you a hill of time if money is a factor. The H5's from Bang & Olufsen are gonna set you back about $250 if you buy through Amazon. Oh, you have that much to blow on Bluetooth headphones? Then, by all means, right this way…
These little beauties are the first foray into wireless for B&O. As one expects from Bang and Olufsen, H5s offer a superior sporty Bluetooth experience, from design to sound, but also in technology. The H5 employs Bluetooth 4.2, which if you don't know is everything you want in close range wireless.
Perfect Design, Nearly
From a designer standpoint, B&O only makes beautiful products. The H5s are no exception, designed by Scandinavian artist Jakob Wagner.
The ear buds for these headphones are tethered by a fabric braided cord, the controls for which are mounted on that cord. The buds a simple ear bud design, big enough to house the drivers but not too big to pull out of the ear canal.
They ship with seven total tips, in two different materials; foam or silicone. Each bud also has a tiny magnet, allowing the buds to stick together when not in use, hanging like a necklace. This prevents you from losing your expensive headphones.
When it comes to charging them, the magnets facilitate holding the buds in the charging device. 
The only reservation we have about the design is the presumption that ear tips will be enough to secure them in everyone's ears. If we've learned nothing about headphones in the last few decades, it's that ears are like snowflakes. Each one is different.
The H5s do not come with any kind of inner ear or over-the-ear suspension accessory. Once you start sweating, you may have trouble keeping these in your ears.
Sound quality
Nobody will beat B&O for sound, so Jaybird and Beats can give up now. They will crush the competition in this category every time. There is a companion app (because who doesn't create a companion app these days?) facilitating customization of your sound.
The app also has presets for things like commuting and working out if you don't want to fidget around with it. Nonetheless, expect premium results.
The H5 can play high-resolution files and promises "CD-like quality" sound, something Jaybird's Freedoms offer, but not Beats' Powerbeats2. The technology uses a Bluetooth accessory called aptX, which takes the otherwise flat sound produced by Bluetooth then expands it.
This is the new normal in Bluetooth headphones, but the question remains to be answered if it's good enough for audiophiles. Likely not, but keep trying, everyone. The rest of us will enjoy the upgrades as we rock out in the gym.
I've never ended a workout over sound quality. I've had a few workouts tarnished by one side of my headphones failing to work or by cords being snagged, but never because the EQ levels weren't to my satisfaction.
As long as the drivers push volume and some bass, most headphones will keep me entertained for an hour.
Technology
The H5s employ Bluetooth 4.2, not 4.1 like the Jaybird Freedoms or the Powerbeats2 which are Bluetooth 4.0. Bluetooth 4.2 is 250 times faster than its predecessor. That speed means the little packets of sound (the way the sound is sent from your device to your headphones) will ensure a smoother listening experience.
The charging device for your H5s, as mentioned, uses the magnets to hold them in the cubic charger. There is no wire connection; they charge wirelessly.
A single charge takes about two hours but lasts five. You could run a marathon wearing your H5s. The great part about this charging system is it allows the H5s to remain water resistant, as there is no jack for charging.
While the ear tips appear to be the same old foam or silicone tips we see from every manufacturer, B&O claims their tips have been specifically designed for comfort and functionality. The foam tips, for example, have a silicon membrane on the inside to keep sweat out of your electronics. 
At the end of the day, it's gonna come down to your taste in sound. If you're like me, loud is good enough, but if you need to play AAC files in concert hall acoustical style, then these are your new workout headphones.
The one thing they have going for them, no doubt, is the near wireless feature. Nobody like headphones that snag when working out. In that regard, you are covered. IMHO, the cost is nearly worth it in that case.