Recently launched on Indiegogo, the Naptime smart mask promises to give you the perfect power nap by covering your eyes, playing soft sounds in...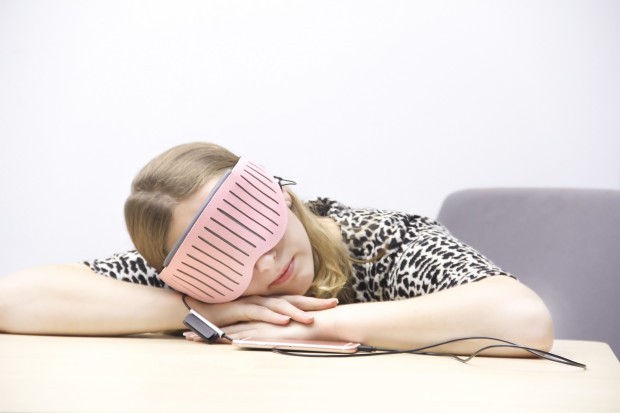 Recently launched on Indiegogo, the Naptime smart mask promises to give you the perfect power nap by covering your eyes, playing soft sounds in your ears, then waking you at the goldilocks time.
The question we have to ask is, what is the goldilocks just-right amount of time for a nap?
According to our friends behind the Thim sleep wearable, the perfect nap is ten minutes. The folks behind Naptime have a different opinion. Which one is right?
Catch up, read: Thim Sleep Wearable Actually Helps You Fall Sleep (Better)
The Thim wearable is more of a sleep trainer.
Naptime looks much like the sort of thing you put on your face when you need your beauty rest but packs some cool tech under the hood. Before we get into those details, let's consider what exactly constitutes the perfect nap and why.
The Perfect Nap
The perfect nap is the one that you take, then go back to your waking hours with more energy than before.
Not enough nap, meaning not deep or long enough, then you've wasted your time. If you go too deep or stay under too long, you could wind up more groggy then when you started.
Is there a way to know exactly how long is perfect? The key is understanding the phases of sleep and how the body demonstrates where one is in those phases.
Naptime's creators, Entertech, claim that we need 30-minutes to get what we need. More than time slept, Naptime measures your brainwaves to know where you are in the cycle, then gently wakes you up.
Sleep Phases
There are four phases by Entertech's math. (Um, I thought there were five?)
In the first phase of sleep, you're barely under. Wake up in phase one and you may not even know you've rested. By phase two your brain begins to organize your memories. Waking after this phase is ideal.
Phase three drops you into a deeper phase of rest, where you may feel groggy when awoken. Stage four is right out. You'll wake, but you won't want to get up.
I guess phase five is just too intense to even consider.
Design
From the outside, the mask looks like a comfy eye mask.
This isn't your Mom's flimsy eye mask. Naptime is three layers of firm but flexible comfort.
The leather outer layer works to allow in ventilation, but with away moisture. As the vanity layer of the product, it comes in three color options, pink, white or black.
In the middle, a breathable layer filters out light and particles.  Closest to your face, they've covered the inner layer with memory foam.
Naptime also comes with USB-C headphones, so you can use them with your new iPhone or other USB-C enabled audio devices. Through these hi-fi headphones, Naptime plays music or meditative sounds as you prefer.
Over time, Naptime learns what sounds work the fastest to put you to sleep.
Tech
The secret sauce for Naptime tucks along the top edge of the mask. There, you'll find two sensors, which read your brain activity.
Electroencephalography (EEG), the technology in the sensors, you can find in hospitals anywhere. It's what they use to monitor the activity of the brain, usually when looking for abnormalities.
Naptime uses the information collected from the EEG sensors. combined with simple machine learning, to determine the right time to wake you.
If you don't like the sensors, they are removable, but you shouldn't notice them.
So, what is the right about of time for you to nap? The answer is the amount of time that best works for you, I suppose.
From my perspective, if you have an overall issue with sleep, a device like the Thim wearable may be more to your liking. But, if you want something simple that will help you get a few extra minutes during your lunch break, then go with the Naptime device.
In either case, you're not able to buy them right now. Thim is close, but Naptime is only in the presale for the first round of devices.
If you want a good laugh, watch Naptime's promotional video from Indiegogo: