For every time you've been walking down the street wishing, you could broadcast video from where you normally wear that diamond-shaped superhero emblem, T-shirt...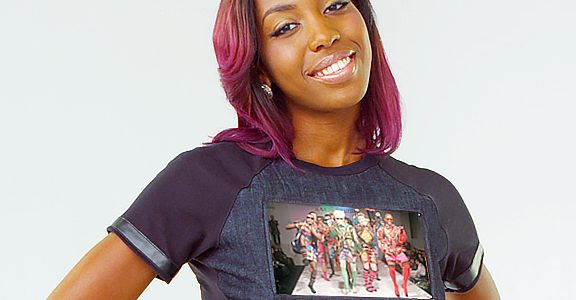 For every time you've been walking down the street wishing, you could broadcast video from where you normally wear that diamond-shaped superhero emblem, T-shirt TV can help. You can broadcast your promo video or tune yourself into a walking music video display because we totally need that.
We should have expected this when people started putting TVs in their kitchens. At the time it was innocent enough. It was the 80's, after all.
Nobody could have predicted the all-out display insanity that is our modern world. We're all carrying them around in our pockets now. You know your smartphone. It's a little TV.
Why then should we embed T-shirts with this tech? The question we should be asking, instead of why, is why not sooner?
The T-shirt TV crew not only sells T-shirts with TVs in them but aprons and jackets. It's only a matter of time before we see booty shorts with screens on each cheek. For marketers, these toys may prove helpful.
Input Overload
That's when too much data comes into our brains. It happens every time we drive, every time we walk near an urban shopping area.
Life inundates us with messages, often in video format, all trying to compete with the headphones in our ears and the smartphones in our hands.
The new world of marketing is challenging, to say the least, at least in the flesh and blood world.
If you've ever tried to hand out fliers or engage people on the street, you know what that is like. People just aren't paying attention.
Chest TV
While at first, it sounds silly, a screen on your chest might be just what the doctor ordered.
With grassroots marketing, one thing that can help break the ice is a distraction. There are tricks like wearing something silly, which may disarm people.
A moving screen on your chest may draw people to you just enough that you can start talking to them. That's all you need to break the ice. Then you can segue into a pitch, even it's just a promotional pitch.
The Tech
The shirt itself is 100% preshrunk cotton. When you clean the shirt, they recommend dry cleaning. The screen comes out for washing.
The content you air on your chest, you can load via USB to the onboard memory. That memory stores up to two hours of HD content. It will upload from Mac or Windows machines.
The screen is a half-pound, 10-inch display with 1080p quality. The screen also plays audio, but we can't comment on the quality. Our guess is smartphone level sound.
To keep you charged, T-shirt TV sells a battery pack which you can swap to extend your playback time.
Options
The T-shirt TV company also offers additional batteries. They will work on the jacket and apron too.
The jacket is a varsity-style jacket. We imagine this format would work well for advertising while at sporting events. The apron, available in short or long versions, you could use to outfit your frontline staff to display mouthwatering promotional items.
There are even a few variables in t-shirt styles, including women's cuts, cropped shirts and small screen variants. All wearables from the T-shirt TV company come in multiple color options.
At one time, t-shirts embedded with lights were common at massive music festivals. Those were, for the most part, just for fun.
The idea of using movement to draw people's attention, especially someplace like that, is pretty smart. We can't speak to the comfort of the clothing, but when you're marketing, comfort isn't your primary concern.
You can learn more about wearable TVs at the T-shirt TV site.
https://vimeo.com/90663211