If you decide to Google "Nude Fitness," refine your search results for news hits only. It's a drrty internet out there. I'd hate for...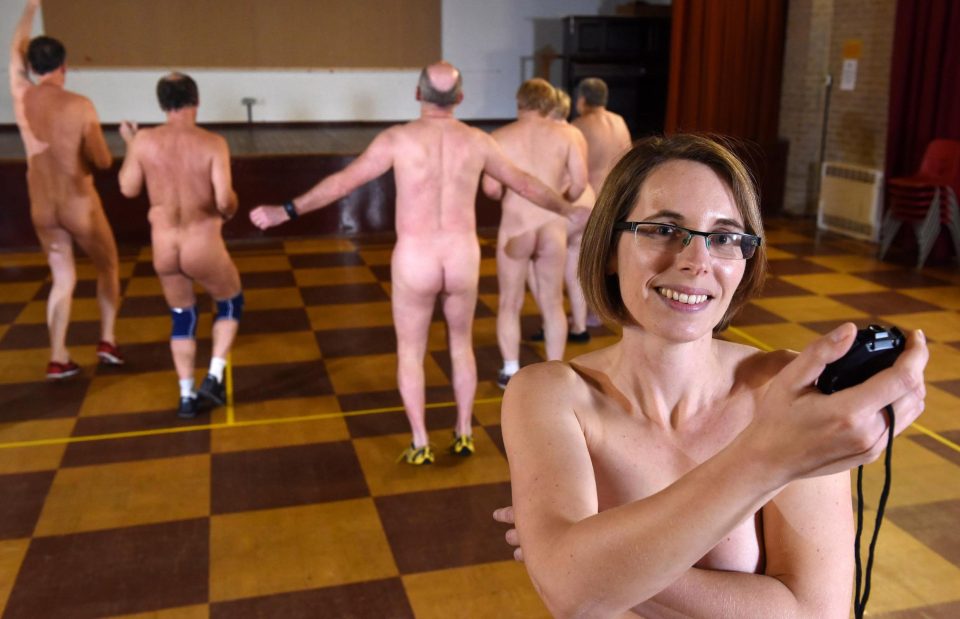 If you decide to Google "Nude Fitness," refine your search results for news hits only. It's a drrty internet out there. I'd hate for to charred holes in your eye sockets. Otherwise, you can take my word for it. It's a thing. It's not a big thing (not that size matters) but it is a thing. People are working out in the buff, and it may or may not be creepy…
The first time I read about this was a post in The Sun. A woman in Britain conducts group fitness classes without the fear of her underwear climbing up because she's not wearing any. Neither are the members (mostly male, ahem).
This provoked a search, which landed me deep in results that would make my mother blush. It took a few minutes of distraction and some re-focused digging, but I found the ground truth about this nude fitness.
Like I said, "a thing." It's happening in England, by this one instructor, in this one gym. Among my chores reporting on this news, Men's Health, The Mirror UK, Ask Men, and Buzz to name a few.
Nude fitness is more or less a shrewd attempt at creating a worldwide conversation about something that didn't previously exist outside of the porn world. It may catch on, but for now, we're feeding one gym a ton of free press. It's as if I've told you there is a bus full of children careening off the cliff behind you. Don't look.
Helen Smith
Smith is a naturist and personal trainer, but she worked in recruitment once upon a time. She is a member of the British Naturism organization.
In case you don't know what that means, they're nudists. It's not necessarily about being nude, but amognst naturists you can choose nudity if you prefer. Around other naturists, clothing is taboo, not skin.
Smith picked up the practice while traveling in the South of France with her partner. "We turned up at a beach and realized it was a naturist beach. I looked at him, and he looked at me, and we thought, let's do it," she said.
To Smith, the idea is not so revolutionary in a world where celebrities post nude selfies online and others take nude bike rides.
The Class
It's one hour of your time. Bring £8 for the class. You'd also better be in Southampton,at the Nursling Village Hall, at least they expand it to other cities.
Smith describes the class as a gentle boot-camp style class, with something for everybody.
Participants are not audience members. You have to work in pairs sometimes, so if anyone goes to watch, it's gonna get weird fast.
The first class of ten participants enjoyed a wide scope of ages, from 33 to 70 years. Exercises were bodyweight moves, the sort of thing you could do on your own, but with the guidance of Smith to improve your form.
Women can wear sports bras for support, and anyone can wear shoes as they prefer, but you must otherwise be nude.
Benefits
There are two. You'll save a bundle on washing your gym clothes. Also, Smith claims she can see better how you are performing your exercises. Except in cases where attendees have too much body fat to see, she can tell which muscles you are using, but which you are not.
Smith would argue, as would her class, that I'm skimming over a big benefit. The first class remarked on getting past the discomfort, then finding a place of disregard for body consciousness.
They may be right.
My Two cents
For this writer and former personal trainer, I get the need to see your clients move, but I spill more ink one the value of technique over form.
Even if I could see your actual muscle bellies without the skin, I still can't feel how you're activating them. You have the most intimate information on the order and ways in which you fire your muscles, even if you haven't developed the skill to do so yet.
The other thing is, I wouldn't even do this in my own home. It would be too distracting. Exercise demands focus.
Some of us like clothing. The allure of that which one cannot see, of something to remove, is worth wearing clothes.
This is one of those things. It might blow away but it could also waltz into your town. Don't let it surprise you when the local fitness facility organizes their first nude fitness class. You can start dreaming of the savings to your laundry bill now.
It's gonna be so great.