Most places you can find cheap disposable headlamps for around ten dollars. Those are good for your first headlamp, but what you will find...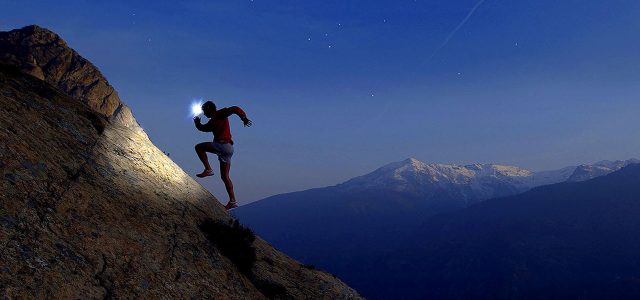 Most places you can find cheap disposable headlamps for around ten dollars. Those are good for your first headlamp, but what you will find is thy don't last. You can also spend the bank on a headlamp intended to summit Everest.
Not necessary. You're better off buying a mid-priced headlamp that will take rain like a champ but will also last long enough to change or recharge the batteries.
The problem with smartphone flashlights and their LED counterparts is, they aren't that bright, even when they are. They also require we hold them.
In most cases where we need a light on something, it's because we intend to engage with said thing. We need our hands-free.
A smartphone or traditional flashlight only frees up one hand, unless you want to use your chin to hold that light. Hope you aren't leaning over the toilet or up high. That's the fastest way to drop your light into the darkness, where it's sure to turn off then roll away once it hits the ground.
Quit goofing around with that stuff. Get yourself a headlamp. This is low-tech lifestyle wearables at their finest. Here are four you should consider. To make this list they had to have a rechargeable option, but also stand up to rain. No sense having a headlamp that goes out if there's a little storm overhead.
Price: $57.76
Weight: 90g
IPX Rating: 4
Lumens: 120
Nobody does fashion in the headlamp game like UCO. With the X-120 X-ACT (a mouthful, no?) you get not only a lighter headlamp than most, but don't have to sacrifice lumens.
You get one Lithium-ion battery with your UCO lamp, which is rechargeable.
The strap for the UCO is online any on this list, made to customize your perfect fit. The lamp adjustment is also different for this wearable. It's a dial, not a button.
There's a one year warranty on this device.
Price: $56.96
Weight: 97g
IPX Rating: 4
Lumens: 130
The ReVolt is a heavy headlamp but isn't too heavy to wear for long periods of time. The beam options are either focused, wide or red. You have strobe options too.
It comes with two battery options, rechargeable and non-rechargeable. The former you can charge while they are in the headlamp via a covered micro-USB port. They won't charge other rechargeable batteries, but you can other brand batteries if they have juice.
All Black Diamond products carry a one year warranty.
Some reviewers complain that this headlamp is not as rugged as other headlamps from Black Diamond. Expect an improved design or replacement from Black Diamond soon.
Price: $47.81
Weight: 85g
IPX Rating: 4
Lumens: 215
The Petzl Tikka XP is not the brightest of the Tikka headlamps from Petzl, but it is the most versatile and cost-effective of the Petzl lineup. It offers two different beam patterns and a red light for discreet illumination.
It will work with standard batteries or rechargeable. Petzl's engineers designed the Tikka to stay the same illumination for most of the battery life.
As the Tikka nears the end of the battery life it will switch to reserve mode, then just the red lights. Whereas the standard is one year, the Petzl offers a three-year warranty.
Price: $19.97
Weight: 125g
IPX Rating: 7
Lumens: 280
Most wouldn't consider Foxelli as it's not one of the big names in headlamps, but this headlamp is the best bang for your buck.
Of this lineup, it's the only one that carries an IPX rating of 7. That means it will take more than a little rain. You can submerge it.
It's also the highest lumen rating of any on this list, with more brightness options as well.
What will bump some people is that this is the only one with non-removable batteries. It's also a heavy headlamp at 125 grams, but reviews are solid, nothing but four and five-star reviews on Amazon.
Rugged and affordable with a one year warranty.
If you won't wear a bulky headlamp and don't mind dropping a few greenbacks for the sake of fashion, the UCO makes a solid option. Petzl and Black Diamond are reliable brands that you will find in most outdoor gear shops, but the Foxelli is the sneak attack of the bunch. The MX500L form Foxelli won't win you any fashion awards, but it will illuminate your world of darkness.