Losing weight is hardly a walk in the park. Getting your fitness on everyday can seem like the only way to shed the pounds...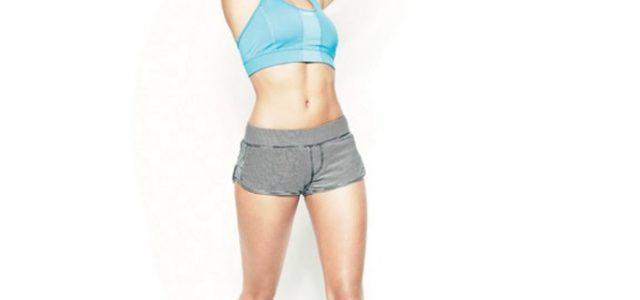 Losing weight is hardly a walk in the park. Getting your fitness on everyday can seem like the only way to shed the pounds and if you're not seeing the results, it can soon become disheartening. Pounding the pavement isn't the only way to go. Strength building moves are one of the most effective ways you can tone up your body and get rid of that extra fat. While you should accompany the exercises with healthy eating and cardio workouts, the moves can help you to meet your goal even faster than you had imagined. These total body moves will help to tone up various muscle groups at the same time. All you need to do is get the right posture, use your bodyweight and tense those muscles.
Deadlift Weights
Using your legs as the main muscle group, deadlifts can work wonders for your metabolism. When you use your hips as a part of an active move, your body releases both testosterone and growth hormones to help tone up your muscle. Don't worry about becoming too bulky; the move tenses up your core just enough to avoid filling out your muscles as much as other moves. When you perform the move, make sure you focus on each muscle group as you slowly lift the weight upwards. The more that you squeeze, the more you can get out of the move.
Squats
They might hurt while you're doing them but squats are the holy grail for your legs, abs and butt. Hitting most of the muscles in your body, the move will help to tone up even the hardest to reach areas. All you need to do is ensure you keep your back straight, your legs apart and your stomach tense. The exercise will help to work out your heart and tone up your whole body.
Reverse Dip
Toning up your tripes is a tricky business. The way to solve the problem is to target the area with active strength exercises. Enter the reverse dip. Using your bodyweight as resistance, the move engages your triceps, helping to cut down on the fat in the area. For the ultimate burn, try completing 3 sets of 10 repetitions with a small break in between. You might ache afterwards but you will soon notice the difference it makes!
Crossover Lunge
While traditional lunges are sure to work up a sweat, the crossover lunge is only going to go one better. Working your legs, core and upper body, this move is great for total body toning, helping to perfect your internal balance at the same time. Make sure you're standing with your arms at shoulder height, keeping your palms down. Next, step forward with your right foot, crossing it in front of the left. Lower your body into a curtsy-position, while twisting your torso towards the right. Untwist your body slowly, keep your back straight and repeat on the other side!
Inch Worm
If you're a fan of yoga and pilates, then this move is a great one to incorporate into your routine. Helping to boost upper body strength and keep your core in check, the inch worm is always great to whip out at a moment's notice. To perform the move, bend forwards and place your hands on the floor in front of your toes. Gently walk your hands forwards until you reach a plank position and perform a push up. Now, walk your hands back up in the other direction until you reach a standing position. Repeat the move for 8 to 12 reps and see how toned your body becomes.
Standing Lift
Of course, you can't do all of that toning action without giving your back a good exercising. This move will work out your entire back and your obliques, strengthening the muscles in the area. Stand with the left foot in front of your right, holding a small weight with both hands. Extend your arms so the weight is angled towards your right hip and rotate your arms up and across. Be careful not to twist your torso; you need to make sure your back stays straight and still to make the most out of the move.