Snacking can sometimes be the downfall of healthy eating. No matter your level of discipline towards your diet, when hunger calls, it can be...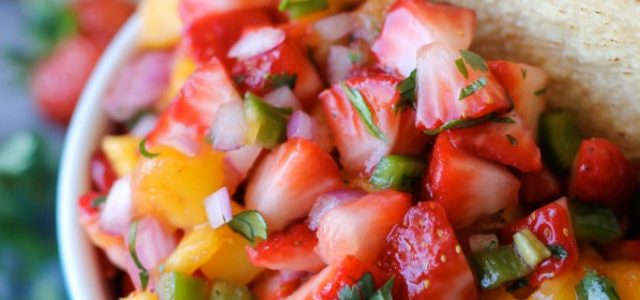 Snacking can sometimes be the downfall of healthy eating. No matter your level of discipline towards your diet, when hunger calls, it can be incredibly difficult to avoid temptation and make the right food choice to meet your needs. Where there's a will, however, there's always a way and if you want to make all the right foodie decisions to keep your health in check, there are a ton of easy recipes at your disposal. Now that summer has well and truly made its mark, it's time to take over the greasy dip stand and turn into something bursting with nutrition. These dips make snacking delicious, healthy and balanced, too.
Healthy eating doesn't have to do away with the flavor and it is incredibly easy to whip something up that packs a serious punch in the taste department. This fresh pesto makes the perfect accompaniment to healthy salads and sandwiches, adding just enough taste while keeping things on the nutritious side of the fence. You can try pairing the sauce with some greens, whole wheat pasta or even a green ratatouille. The food world is yours to take!
Want a dip that is every bit as good as it looks? You need to try this roasted red pepper hummus. Thick, creamy and incredibly tasty, the healthy dip can work wonders for your health and does a great job of supplementing other, fattier versions. While the recipe calls for red bell peppers, you can try mixing things up and throwing in some yellow peppers, lentils or chickpeas. A great way of getting your nutrient fix in one fell swoop, this hummus isn't likely to last long at any party!
With all the healthy power of black beans and all the deliciousness of a barbecue, this black bean dip makes for the perfect summer accompaniment.  Loaded with fresh veggies and entirely gluten free, the dip is perfect for any kind of party, helping to offset other homemade recipes. While the dip can be used to accompany anything at all, it is particularly tasty when served up alongside a plate of low salt tortilla chips. Deliciousness all round.
Looking for a twist on the same old recipes? This strawberry mango salsa ought to do the trick. Sweet, tangy and incredibly tasty, the salsa can be used as an accompaniment to your favorite summer salads and sandwiches. Loaded with healthy flavor, you only need a taste of the dish to know what it's all about and before long, you might just be hooked for life.
While all the familiar recipes rear their heads time and again, you can try whipping up something a little bit different. A healthy snack that can be prepared in no time at all, this white bean dip is an incredibly simple way to get one of your five a day without even realizing it. Serving the food alongside whole wheat pita bread and fresh vegetables makes a great lighter lunch, keeping you full and in good shape in one fell swoop!