Staying healthy can fit into your hectic schedule. With so many quick and easy recipes out there, making the most of the natural ingredients...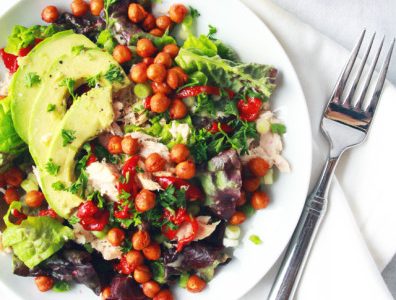 Staying healthy can fit into your hectic schedule. With so many quick and easy recipes out there, making the most of the natural ingredients you have to hand has never been easier and now that salad season is well and truly upon us, the whole thing has just got even simpler. These summer salads can be thrown together in 20 minutes or less and they're seriously bound to impress. Hosting a party? Looking for a healthy way to eat your lunch? Step right up; we have the recipes for you.
Summer days mean hotter afternoons and as the temperature picks up, you might feel less and less inclined to step into your kitchen and turn up the heat. You don't need an oven to enjoy a healthy, balanced meal. This mint and melon salad is the ultimate refreshing antidote to the hottest of summer days and is guaranteed to cool you down just when you need it. All you need to do is prepare the melon, throw in a few fresh mint leaves for good measure and you're good to go!
Looking for a salad that will work wonders on your general health? You got it! This skin beauty salad will do more than just give your body a kick in a healthy direction and in fact, it is so beneficial for your wellness that its effects will start to show up on your complexion. Packed full of light vegetables and bursting with fresh flavor, this salad is the ultimate pick-me-up after a long and hot day in the office. You can take some for your lunch and feel the instant cooling effects of the fresh ingredients.
If you like a little more meat in your salad, then slaving away in the kitchen might seem like an all too inevitable outcome. That is, until now. This Vietnamese shredded chicken salad has all the makings of your favorite protein packed meal but unlike other recipes, it won't cost you a lot of extra time in the kitchen. If you have a few cups of cooked chicken to use up, the recipe is the perfect way to try something new and might just introduce you to a world of new flavors!
The Spanish sure know how to whip up a good salad. This chopped meal comes bursting with so much flavor and goodness that it might become your go to dish for the summer season. Bringing together chickpeas, avocado, peppers and fresh herbs, the salad balances the best flavors of the Spanish summertime while keeping the fat content light. You can even prepare this salad if you're in a pinch and your guests will be none the wiser!
Who said that salads had to be about the lettuce alone? This Greek salad uses pasta as its main ingredient and incredibly, it is still one of the healthiest options out there! Loaded with fresh basil, black olives, feta cheese and cherry tomatoes, the salad is a great way to top up on your nutrients and enjoy a flavor explosion at the same time. The best thing about the dish is how well it stores, so you can keep any leftovers of the meal in your fridge and dip into them during the week!