Taking care of your skin should be one of the easiest things you can do as part of a healthy diet and lifestyle but...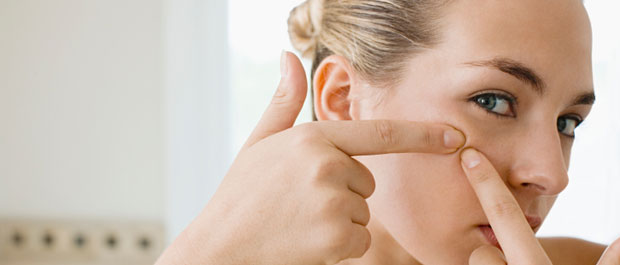 Taking care of your skin should be one of the easiest things you can do as part of a healthy diet and lifestyle but now and then, even the fittest of us can suffer from breakouts. Dealing with acne and skin problems can really take its toll and over time, it's easy to suffer from low confidence and a battered sense of self esteem. While there might be any number of cures in the drugstore, they are more often than not packed full of nasty chemicals that can have an adverse effect on your complexion. Want better, brighter skin? It might be time to look to mother nature.
Manuka Honey
One of nature's most antibacterial foods, manuka honey has long been used as an effective cure against skin breakouts and irritations. As well as helping to soothe burns and and cuts, the food can work well against nasty skin flares by fighting against inflammation in the cells. The honey's natural components have also been found to improve the general appearance of the skin, smoothe any problems and brighten up the complexion. While you can search for natural products containing the ingredient, manuka honey can just as easily be made into a face mask at home, helping you to stick to an entirely natural regime.
Tea Tree Oil
One of the most common reasons that people deal with skin breakouts is due to an overproduction of oil and sebum, which block up the pores. Using a substance to help dry out any excess oil, then, can have an incredibly positive effect on acne breakouts and when it comes to miracle products, you might be hard pressed to find something as effective as tea tree oil. When used in small and targeted doses, the oil can help to dry out any spots, kill off any lasting bacteria and help the skin to return to its normal healthy state. Simply applying a drop of the oil to the affected area might be all it takes to return to your normal complexion. You can banish breakouts overnight!

3. Papaya

A common ingredient inside many drugstore acne cures, papaya can work wonders against bouts of acne and skin irritation. In its raw form, the fruit can help to remove dead cells and excess lipids from the skin's surface, leaving the complexion remarkably more soft and smooth. Simply mashing the fruit and applying its pulp to your face might be all it takes to give your complexion a boost and enjoy a healthier appearance.
Banana Peel
While eating bananas can be incredibly beneficial to your health, you can use their peel to even better use if you suffer from acne. Naturally high in lutein, banana peel is incredibly effective at reducing any swelling or inflammation in the skin's cells, encouraging healthy repair and regrowth. Rubbing a banana peel in circular motions on your face can help to battle any breakout and have your skin looking its best once again!
Steam Bath
When your pores get clogged up with dirt and bacteria, you're much more likely to suffer from regular breakouts and often, you simply need to let your skin breathe in order to improve the state of your face. Placing your face over a bowl of steaming water for 10 to 15 minutes at the end of the day can help to open up your pores and release whatever might be lurking inside. Once you've washed your face following the process, splash your skin with cold water; this way, your pores will close up again and nothing else can get inside during the night.
Sugar Scrub
While eating excessive quantities of sugar might be what's causing you to break out, you can use the food in order to clear up any sort of breakout. Mixing sugar with honey or olive oil makes an entirely natural exfoliant which will help to get rid of any built up skin cells that might be contributing to your acne. Gently rubbing the solution into your skin can help to clear up whatever is clogging your pores and will moisturize your complexion at the same time. Multitasking and effective? What's not to love about that?