Eating clean is something that you can do as soon as the day starts. Getting your fill of healthy, nutritious breakfast food can make...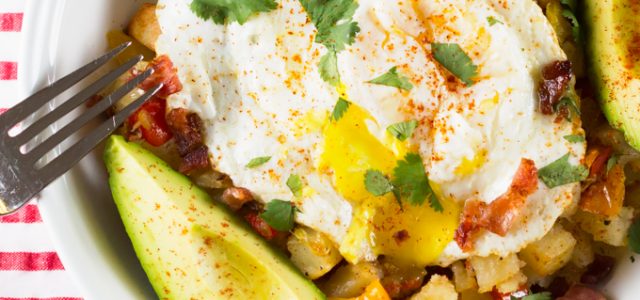 Eating clean is something that you can do as soon as the day starts. Getting your fill of healthy, nutritious breakfast food can make all the difference to how you feel during the day. If you want to do something really good for your overall wellbeing, you might try turning to paleo foods. Adaptable to any type of diet, paleo foods are those that were available cavemen and therefore contain no processed or refined ingredients. One of the healthiest ways to eat, paleo diets ensure you only get the good stuff in your system. Bowls at the ready; breakfast is about to be served!
When it comes to paleo foods, not everything is as it seems. Take this burrito bowl for example. While it might appear to be packed full of the most sinful ingredients out there, the breakfast dish is in fact loaded with all the nutrients you could possibly need. Heavy carbs are replaced by fresh sweet potato and scrambled eggs give the raw noodles a powerful shot of protein. It might have all the makings of a traditional burrito but this paleo version is so much better.
Potatoes are one of the best ways to get a few nutrients inside your body and fill up at the start of the day. There are few breakfast bowls better, then, than this roasted potato paleo offering. While there is a small serving of bacon in the dish, the food is balanced out with hearty avocado, peppers and chopped onions. Make this one up whenever you're feeling hungry and chow down in comfort.
Thought that breakfast was all about the fruits? There's no reason why you can't get a good serving of veggies first thing in the morning. Taking an alternative spin on the traditional hash, this breakfast dish throws in a whole load of sprouts, asparagus and protein packed eggs. This bowl is a great option for after a heavy workout; filling, protein packed and down right delicious, it will help you to recover in no time at all!
If you've got more of a sweet tooth, however, this berry coconut breakfast bowl should be right up your street. Sweet and crunchy, the recipe takes all the traditional elements of a hearty breakfast and tops them off with an extra serving of nutrition. One of the best things about this dish is its adaptability. You're free to choose any type of fruit that takes your fancy and can top the whole thing off with the seeds of your choice. Choosing has never been so delicious!
5. Mango Raspberry Acai Bowl
If morning smoothies are your thing, why not try blending the whole thing into a bowl? Smoothie bowls are gaining serious popularity and by using acai, you can serve up something that is both thick and filling. This fruity offering blends mangoes and raspberries with acai berries, helping you to eat well in the morning. High in antioxidants and loaded with fiber, this dish will do your body a whole lot of good.
Sometimes, however, it is the simplest dishes that are the best. Utilizing the basic recipe, this paleo porridge packs in a whole load of extras, giving you a great deal more bang for your buck. Finished off with almond flour, flaxseed, coconut milk and spices, the porridge is a great way to start those cold winter mornings, serving up a whole lot of foodie comfort!