Are you looking for an even better excuse to whip up a tasty breakfast? Hold on to your recipe books. Once a major player...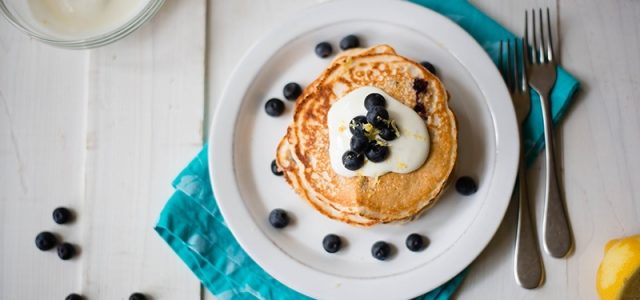 Are you looking for an even better excuse to whip up a tasty breakfast? Hold on to your recipe books. Once a major player in the unhealthy (but undeniably tasty) meal category, pancakes are upping their game and now, it's very possible to whip up a dish that is as good for your health as it is your tastebuds. These tasty breakfast morsels are the ultimate way to get your protein intake first thing in the morning, giving you the juice to keep going throughout the day. Want a better, brighter breakfast? These pancakes will sort you out.
Arguably one of the most popular superfoods of the moment, chia seeds are an incredible source of all kinds of good stuff, not least protein. Whipped up with egg whites, vanilla protein powder, banana and lemon, these pancakes will keep you going for the day ahead without weighing you down. Chia seeds to the rescue!
When in doubt, get fruity. These lemon and blueberry pancakes might look like a sinful way to start the day but after one bite, you will see what all the fuss is about. Loaded with antioxidants and refueling protein, the dish packs a healthy punch and is the perfect option after a hefty workout. Try layering the finished dish with natural yogurt and fresh berries for an even tastier option; you won't want to eat anything else!
Who knew that vegan food could look as good as this? Serving up a mean slice of your daily protein intake, these pancakes are just as tasty as you think, helping you to recover after any sort of heavy workout. Using coconut oil and a whole lot of fresh fruit, the pancakes are as healthy as they come, helping you to fill up without loading up on the dairy!
You read that right. These chocolate protein pancakes will help you to get a serving of something tasty at the start of the day while taking care of your cravings. Free from dairy, gluten and very low in fat, the pancakes won't leave you feeling heavy when you're done with your meal. Using cocoa powder and containing a sugar option, the dish can be as healthy as you want it to be; you're the one in charge.
Light, fruity and incredibly tasty, these strawberry and Greek yogurt pancakes are the ultimate way to get something healthy under your belt at the start of the day. Whipped up in 15 minutes flat, this is the healthy dish that won't cost you a lot of extra time but will keep you going for longer. Who said that nutritious eating had to be fiddly?
The pancake recipe to end all pancake recipes, these peanut butter and banana goodies are bound to become a firm favorite in your kitchen. As well as getting a hefty serving of protein from the nuts, this recipe comes loaded with protein powder and eggs for an even stronger kick. Finished off with a maple peanut sauce, the dish is too tasty not to try and might just end up transforming your breakfast for months to come!