Anyone who has an interest in hacking the human experience should drop everything to register for the 3-day BDYHAX convention Feb 2-4, 2018...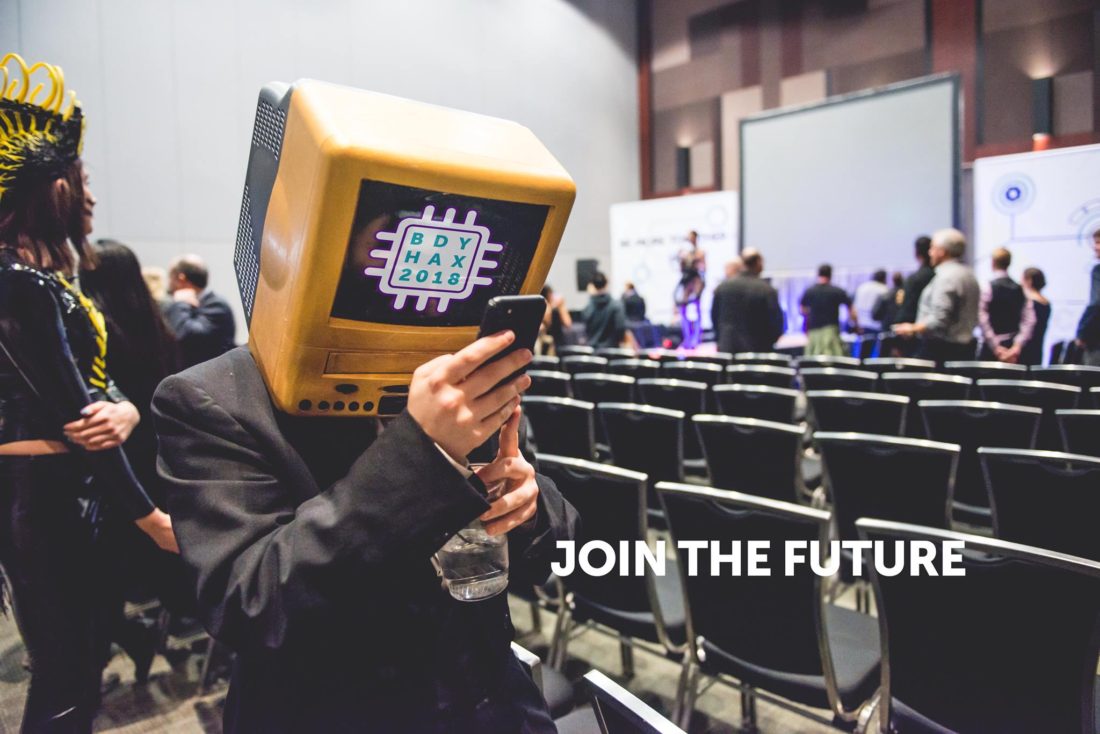 Anyone who has an interest in hacking the human experience should drop everything to register for the 3-day BDYHAX convention Feb 2-4, 2018 in Austin, Texas.
This will be the third installment of the now-annual convention in Austin, which seems to grow every year. This year's lineup has DARPA in the mix, which means no matter what it's gonna be super cool.
Three days long, BDYHAX delves into the multi-faceted universe of hacking the human body. It's a chance for you to rub elbows with super-weirdos and super-smart people, many of whom are both weird and smart at the same time.
Attendees can also get down and boogie at a huge party they throw Saturday night, because why not? If you're serious about body hacking, you should try to go, but understand there are protocols…
Getting it Right
For anyone who owned Legos in the 1980s or '90s, they'll remember that any box of Legos came with a small lecture on the side of the box.
Outlined by the company, one was not to refer to their product as Legos, but only as Lego bricks or Lego blocks.
As a kid, this seemed preposterous. My pals and I had been "playing legos" for so long we weren't going to derail our accepted nomenclature to appease some corporate entity, especially when nobody could stop us.
The Lego Group eventually dropped this battle. Legos is now an acceptable term.
In a similar fashion, the correct pronunciation of BDYHAX is body hacks, even though organizers do not want anyone referring to their convention in print as a "body hacking convention."
Also, it's not a bio-hacking convention, but a body hacking one. They lobby that biohacking and body hacking are not the same things necessarily.
It's a splittable hair, I guess.
Experiencing the Convention
Despite the apparent disparity for those who want to discover more about biohacking, there is plenty of "bio" in store for the event.
The headliner for the conference is DARPA's Biological Technologies Office Director, Justin Sanchez.
His whole job centers on biotech, in the ways those technologies relate to U.S military defense, but he'll be talking about more than four-legged robots. In fact, it sounds like the flashy robots of DARPA are not even on the agenda.
Sanchez will focus more on neural linking to computers (a la Elon Musk and Bryan Johnson?) and programmable microbes. Sounds pretty bio-hacky to this writer, but perhaps DARPA gets a pass wherever geeks congregate.
One can expect to see and hear from the foremost experts in the field of body hacking too. Exhibitionists will be on hand too, Stelarc, and Rich Lee included, presenting everything from meditation techniques to nootropic compounds and nutritional hacks.
All razzing aside, it should be pretty cool.
Going
There are a couple of ways to attend BDYHAX, either by purchasing tickets like a normal person, becoming a presenter or by requesting a press kit.
There are two levels of access for non-presenters, the Plus Pass and the Core Pass.
While the Plus Pass is $50 more—$280 versus the $230 required for the Core Pass—it comes with so much more. But, understand you'll need to be 18 or older for the Plus because sex and drugs (well, alcohol).
With that pass, one has access to the SexTech Friday event, and The Wormhole (cyberpunk party). The Plus Pass also comes with a free t-shirt.
Those who purchase the Core Pass can attend the other events for an additional fee, but one must be 18 to enter those events regardless. There's a Sunday Lunch also available for $20.
Most attendees and presenters will stay at the Austin Sheraton, where the BDYHAX team has a block of rooms reserved at discounted rates. The event itself takes place in the Sheraton's newly remodeled ballrooms and conference rooms.
At last check, there were a bunch of student-passes available online for $100, which match the Core Passes for access. As is the case with conventions, they get better over time so you can expect lucky number three to be a good one.
IMHO, the chance to hear DARPA's Justin Sanchez is worth every penny, but it would be awesome to talk to Rich Lee too. This is your chance to finally check out the future of humanity.
Disclosure: This event is not sponsored by this website. Body Hacks and BDYHAX are two different entities.