Enjoying Christmas and staying healthy don't exactly go hand in hand, right? Wrong! It's all a question of perspective. Making the most out of...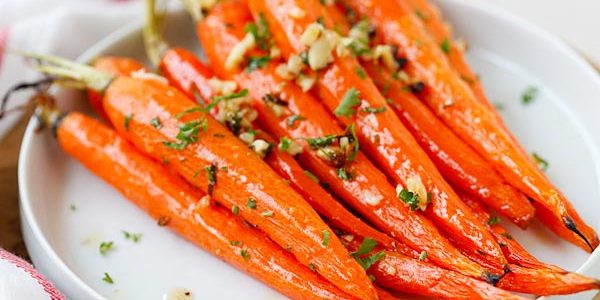 Enjoying Christmas and staying healthy don't exactly go hand in hand, right? Wrong! It's all a question of perspective. Making the most out of the festive season and keeping on track with your healthy eating habits is a whole lot easier than you might have realized. While you might have to give up a few of your old favorites, there are a ton of tasty food morsels on offer in their place. These plant-based side dishes will make the perfect accompaniment to your Christmas feast, letting you enjoy all the spoils of the season without sacrificing your waistline!
There are carrots and then there are honey roasted carrots. You can work out the difference. Slow roasted in the oven, these baked vegetables are bursting with both seasoning and nutrients, giving you a hefty serving of vitamins in the process. If you're cooking up a vegetarian meal, these carrots are a great stand in. Packed with flavor and oh-so-filling, the vegetable will help you enjoy the kind of Christmas meal you really deserve!
The most notorious of Christmas meal side dishes, brussel sprouts are the ingredient most likely to be leftover on the plate. It turns out you might just not have had the right kind of recipe. Boiled brussel sprouts don't have anything on these sticky, sweet roasted veg. Slow cooked in the oven, the brussel sprouts are tender and soft, having done away with all of that bitterness for which they're known. Pop a tray of these bad boys on your Christmas table and watch as they get wolfed down.
When it comes to vegetables, roasted is always better. While you might be used to eating your cauliflower doused in cheese, this oven roasted version packs an even better flavor punch and is a whole lot lighter on the calories. If you want to make this side dish suitable for vegans, just do away with the parmesan and add a little more seasoning. The flavor of the vegetable is the thing you should really get excited about, in any case.
If you're about to stick your green beans in hot water, it's time to shake things up a bit. Boiling vegetables is a sure fire way to cut down on their nutritional value and suck out a huge amount of their flavor. Turning to the oven, however, can really help to ramp up the tastiness of each dish. Just take green beans as an example. These oven roasted veg are crunchy and light, cutting through your feast's heaviness with their zingy citrus seasoning. Pile up your oven high and let the heat do its work on these veg.
While they might not exactly be a traditional Christmas vegetable, beets make a great addition to any festive meal. Rich in flavor and oh-so-meaty, the root vegetable can be whipped up in any number of ways. This oven roasted recipe might be the best around, however, helping to ramp up the flavor of any plate. Bursting with color and packed full of flavor, the dish makes the perfect addition to your meal, letting you pile up your dish without any of the guilt.
When it comes to Christmas foods, there are few ingredients as tasty as butternut squash. The ultimate winter vegetable, squash can be added to any of your meals during the season to lend your cooking that extra bit of warmth. While this version comes with pancetta or bacon pieces, you can just as easily leave them out if you want to be even healthier. Load this into your oven and enjoy your feast in style.