In development, the Bodytrak wearable biometric smart sensor technology or just Bodytrak device, should hit shelves later this year. The device edges into the...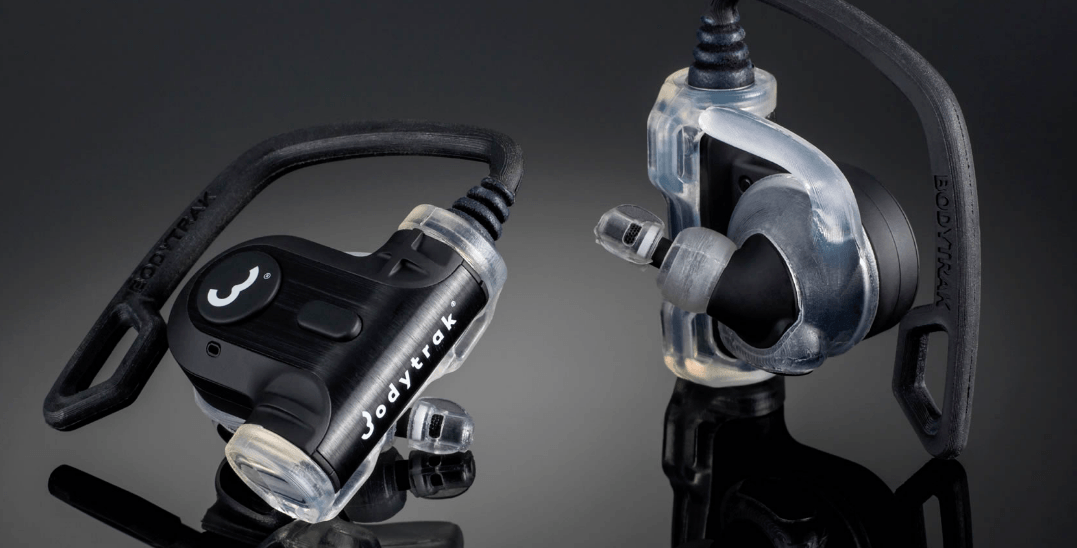 In development, the Bodytrak wearable biometric smart sensor technology or just Bodytrak device, should hit shelves later this year. The device edges into the market dominated by Braggi and Samsung, offering reliable health data coupled with the smartest headphone technology.
For 2017 predictions, I'm staking our flag in the Itoldyouso zone.
In case you missed it, you should read: The Body Hacks Wearable Tech Predictions For 2017. We're calling 2017 the year for hearables and virtual-mixed-augmented reality. This is the first proof of that prediction. [Insert: self-satisfied sniff with pursed lips.]
The Bodytrak hearable not only has the design elements and hardware to make the grade, it offers gold standard level technology and will be on everybody's ears by the end of the year. That is, assuming the next best thing ever doesn't bump Bodytrak before the end of 2017.
Water Resistant
Wrapped around the more delicate parts of Bodytrak is a clear silicone gasket, which serves two purposes. It keeps moisture out of the device, but also helps keep the ear bud seated in your unique ear. I assume there will be different sizes to accommodate all of us, not just you.
The trick used here is a version of what many Bluetooth headphones employ; a small silicone fin wedges the into the part of your ear just outside the canal.
The effectiveness, in my experience, is not perfect but beats no fin. A sweaty workout can render a flimsy fin worthless. It'll slide out all the same.
The design of Bodytrak offers a secondary solution, an over the ear wrap.
This, I've found, is usually enough to keep any ear accessory in place. For Bodytrak it seems necessary, as the device is rather large compared to something like Bragi's hearables.
Gold Standard
The key to measuring data at the ear is proximity. The skin around your ear is full of capillaries, but your ear is also close to your brain.
Measurements like core temperature are reliable in the ear, thus many hospitals use ear thermometers. The nostrils would work too, but that's just gross. Plus, headphones don't work in the nose.
The people behind Bodytrak have tested their sensors against the gold standard used in hospitals to match for consistency. That is what Bodytrak promises.
Not only do they measure core temperature, Bodytrak measures heart rate, VO2 and motion data like your speed, distance, and cadence. All told there are 160 patented components to Bodytrak.
Your Ears
In your head, not ears, Bodytrak offers unparalleled health metrics wrapped in a solid user interface. They aren't just headphones that track your metrics. The experience is two-way.
You can talk to Bodytrak. It will talk back. We don't know yet if they will work like the Vi hearable, but I suspect they will in time, inevitably.
Meanwhile, not only will Bodytrak mix your music with ambient sound to the degree that you prefer, it will also report out on your health data in real time. You can use that information to adjust your workout as you see fit.
Professional Sectors
Because Bodytrak employs gold standard health metrics, it can work in professional sectors as well as private.
Consider professions like first responders; medics and firefighters, even police or healthcare providers. These are professionals who need access to easy communication but could also benefit from real-time health tracking for safety.
Bodytrak not only employs quality sensors, the device leverages low power Bluetooth and Ant+ technology, which is like Bluetooth for data. It means Bodytrak can connect to a wider scope of devices, communicate across more platforms, connect better.
This is key for professionals.
Bodytrak may not win any awards for sleek design, but they stand to win on functionality. For this active adult, a sexy pair of headphones is worthless if I spend my workout fighting them.
That's about 99% of the time with most of today's options. If the coated Bodytrak in pink glitter I would still wear them if they delivered on what they promise. Can't wait to try a pair.
Find out more information on Bodytrak on their site.