Thought that the only way to build up your muscles was to hit the gym? Think again! Bodyweight based exercises are some of the...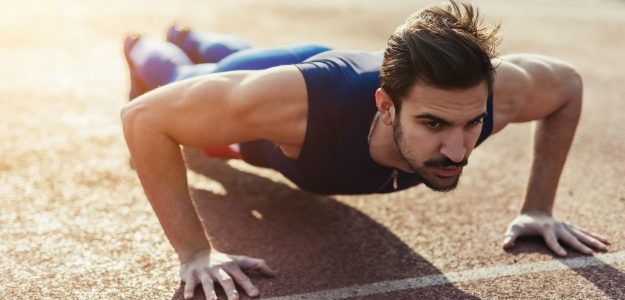 Thought that the only way to build up your muscles was to hit the gym? Think again! Bodyweight based exercises are some of the most effective out there, helping you to build your muscles without giving yourself a strain. Practicing any number of simple exercises at home can help you to tone up and improve your strength, all without the need to use any equipment! These bodyweight exercises will help you to tone up and maximize on your body strength. All you need is a little space, some free time and yourself.
Squats
If you're looking for an effective way to strengthen up your core and lower body, squats are one of the best exercises around. An active movement, squats help you to finetune your balance, improve your strength and work up your heartbeat in one fell swoop. In order to make the exercise as effective as possible, keep your back straight as you squat and stand with your feet shoulder width apart. You can enjoy stronger bones, better balance and a reduced risk of sports-based injuries.
Burpees
While they might be one of your least favorite activities, burpees can do you a whole load of good if you incorporate them into your regular routine. Burning a huge amount of calories per minute, the exercise engages muscles in your core, upper and lower body, giving you a full workout in one move. When you're getting used to the activity, make sure you practice the exercise a few times to get your form in good shape. Doing as many as you can within 5 minutes might not seem like much but it can workout your whole body in one fell swoop!
Push Ups
If your arms are your point of concern, push ups should be your exercise of choice. Helping to tone up your arms and your core, the exercise can boost your general strength and help to keep your bones in the area healthier. To make sure your technique is on point, try doing the exercise with the use of a mirror. You can ensure that your back is straight and elongated in order to reduce the risk of injuring yourself when you're exercising.
Plank
A killer for the core muscles, planks are the perfect exercise to incorporate as part of your workout routine. One of the hardest body building exercises there is, the plank helps to strengthen your entire body, focusing on your core strength. If you suffer from back issues, this could be a great move for you. Requiring you to simply hold yourself in place, the move will engage the key muscles without requiring them to do any further movements.
Lunges
Active and strength building, lunges are always worth including in your fitness routine. While they are relatively similar to squats, lunges work by isolating muscles in each of your legs, toning each side of your body at one time. If you're just starting out, try carrying out the exercise with your hands on your hips. The stronger and more balanced that you become, the easier that you will be able to perform a lunge without even thinking about it!
Wall Sit
While the wall sit might look unassuming, it is a tricky exercise to master. If you're looking for a way to build your back muscles, wall sits can really help you out, keeping the muscles in a stable and locked position. All you need to do is find a wall and hold your muscles as if you were sitting on a chair. The move can help to boost your meditative capabilities, boost your endurance and help you to work on your flexibility, too!