Despite the recent slowdown in new wearables, bikers can enjoy two different applications of velocity science to keep track of their speed. The Moskito...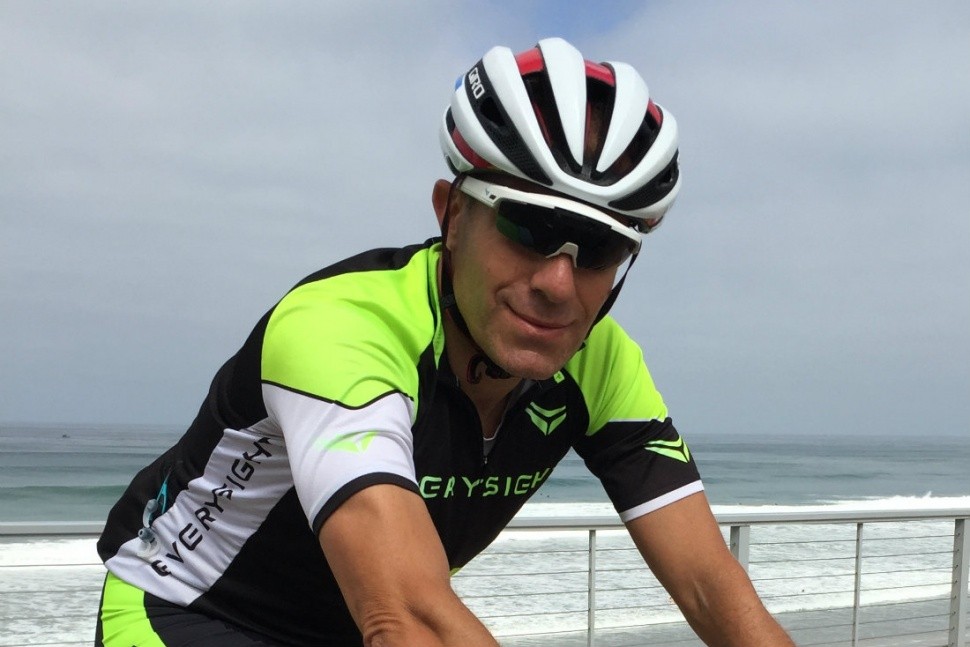 Despite the recent slowdown in new wearables, bikers can enjoy two different applications of velocity science to keep track of their speed. The Moskito wearable is a watch that mounts like an old-timey speedometer.
On the opposite side of the technology spectrum, the Raptor offers riders a heads up display (HUD) with augmented data beyond just speed.
If I were a cyclist I could make an excuse to need both of these devices. Moskito is a Swiss-made watch I would argue I need for non-biking events and casual rides. The Raptor I would reserve for training like a pro. In fact, it may be the device that makes me a pro.
Moskito
At the surface, Moskito is another beautiful Swiss-made watch. This isn't just any Swiss watch manufacturer. The creators worked with Soprod, a Swiss watch company with a respectable resume.
When not cycling, you wear Moskito on your wrist, of course. The understated face offers standard watch features, hour, minutes and seconds, plus data and function.
Moskito repurposes these hands for the velocity readouts when riding. You can mount it right on your handlebar. The second-hand displays current velocity in miles or kilometers. Minutes tell you how far you've gone, while the hour hand stays on the time.
There are three other dials on the face of the watch. The one at the bottom of the face works to tell you your total riding time. At the touch of a button, Moskito offers a Chrono feature too. That's not all.
Moskito will also send you notifications by connecting to your smartphone via Bluetooth. It's Strata and Garmin compatible, so when you use your phone as a GPS device, then you can track a more robust profile of your rides.
The watch comes in white or black faces. The Moskito team offers sport and leather bands. The device is water resistant to two meters, so it won't die after the first rainy ride.
The only bad news about Moskito is that it is still on Kickstarter, but the first preorders ship in January 2017. In fewer than two months you could have your very own. You can learn more at the Moskito site.
Raptor
Step aside R-7s and Hololens, Raptor is coming in hot. The Raptor HUD offers something the aforementioned cannot; style. They look like a normal pair of sports lenses, but they do so much more.
Velocity, time spent riding, distance, heart rate and even your energy output measured in watts; Raptor gives you all this, but without making you look down.
The data displays on the glass of your lenses. The team behind Raptor, Everysight, patented what they call See-through display technology, which looks like what fighter pilots see on their HUDs.
You can choose to focus on the data or look through at the road, but in no case do your eyes come completely off what ahead. You can even display a real-time map, allowing you navigate as you go.
Raptor is always connected, so you receive notifications, but there's more. Like a badass version of Google Glass, Raptor has a camera, so you can snap pics and take POV video of your rides. You can even share those pics as you go.
The manufacturers are in the pre-release phase of their product, so if you play your cards right you can get in on the ground floor. You have to navigate to their site then apply.
If they select you, you pay nothing. You get a pair of Raptors off free. After three months of testing, Everysight will advance you to additional benefits. This is an amazing wearable at the best price ever.
The hardest part about these wearables won't be how to get them on, but how to get them off once you get used to them. You'll want a HUD everywhere you go, and that Swiss watch goes just as well with spandex as it does with an Italian suit.
Here's your plan: put your name on the list for Raptor first, then head over to the Moskito Kickstarter. Pre-order your Moskito, then get ready to have the best year of cycling in 2017.