They probably won't make you jump higher, but these new shoes from Shiftwear will be the lifestyle upgrade your feet have been begging for...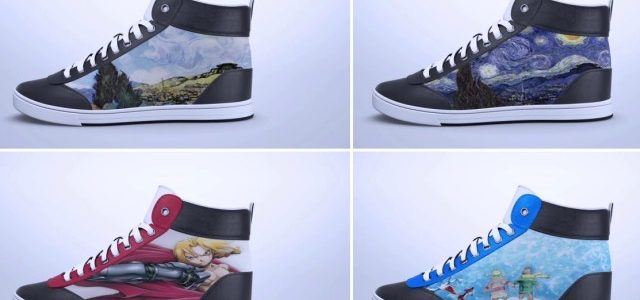 They probably won't make you jump higher, but these new shoes from Shiftwear will be the lifestyle upgrade your feet have been begging for since the invention of Chuck Taylors.
Sporting kevlar fiber soles, walk-to-charge technology so you are always powered and a high definition flexible display, Shiftwear shoes will completely change your stride.
After successfully completing their Indigogo campaign, Shiftwear expects to ship as early as December 2016. This means if they stay on track, 2017 will be the year televisions finally grow legs.
What exactly are they?
Shiftwear's kicks are the fully customizable, platform for self-expression and artistic royalties (yes, royalties from your shoes) that you have been seeking.
Fully Customizable
With only 50% down, Shiftwear will send your own pair of fully customizable shoes. Once you power them up, then download their app, you can put whatever desktops, wallpaper, themes, skins, or cover photos you find online on your feet.
Shiftwear will also have a library of content from which to choose, but you can even design your own art. We'll come back to that part in a minute.
The images or video will be shown on nearly the entire surface of the shoe, wrapping around the back to the other side. Depending on how customized your selections are, you won't ever worry about running into someone wearing the same shoes as you.
Of course, the shape will be the same, but the designs will vary. Shiftwear offers three different versions of their first round of shoes, a low top, a mid-top, and a high-top sneaker.
Platform for Self-Expression
Somewhere along the line graffiti graduated to street art. There is no hallowed ground where self-expression doesn't spray paint itself on walls.
For those who would sport Shiftwear shoes, one more blank canvas has been conquered. With Shiftwear, your outlet for self-expression is not limited to drying times. It's also not punishable by law to express yourself on your shoes.
Think of these shoes as your walking personal crisis outlet. You can be a whole new version of yourself as quickly as you can select new designs to project on your feet.
Get Paid for Creativity
If that weren't enough, you can also turn your affection for creating foot art into a downline of revenue. Shiftwear will provide a marketplace where users can buy and sell designs. Anyone can.
Are you inclined to design? Forget canvas, forget photoshop, forget whatever torrented design software you've been mastering and the forums where you've been peddling your creations.
Now you can design and sell your creativity almost instantly. You get paid. Let's see your old Chuck Taylor's write you a check.
The likelihood of these shoes hitting the market is high, but how the final product will feel is a whole 'nother conversation. They may be stiffer than a ski boot. They may also crap out after the first time you run to make the movie on time.
Today's shoes take a massive beating, tolerated after thousands of years of learning best practices from the earliest cobblers. No doubt our future for wearables is in smart clothes, but it remains to be seen if we smart enough to make our clothes smarter yet.
Good luck, Shiftwear. We're cheering for you.
Here's the product spot from their site: