Oatmeal bowls aren't all about the sweet stuff. While the breakfast offering might be traditionally served up in a number of sugary guises, there's...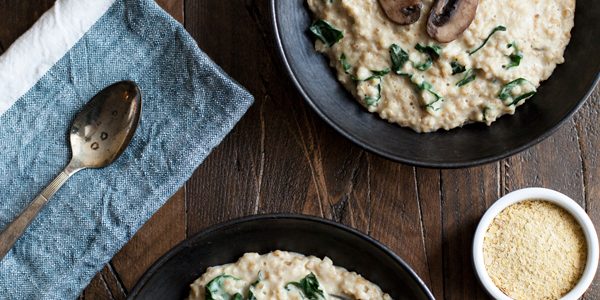 Oatmeal bowls aren't all about the sweet stuff. While the breakfast offering might be traditionally served up in a number of sugary guises, there's no reason why you can't take the recipe basics into your own hands and whip up something entirely different. Savory oatmeal bowls are on the rise and by picking the finest of ingredients, you can whip up a healthy breakfast worth getting up for. These savory bowls might not look like their sweeter counterparts, but they're just as good for your health. Packed full of protein and fiber, the bowls will give you a healthy kick into the day, helping you to keep going before lunch.
Hearty, high in iron and oh-so filling, this oatmeal bowl takes some serious beating. While it works incredibly well as an early morning meal, you can just as easily turn this into your main meal for the day. Made with a hearty portion of steel cut oats, this recipe is just as creamy as any risotto and a whole lot better for your health, too. This bowl might be meat free but it's packed full of rich flavor, helping you to get going for a busy day ahead.
Now that the weather is getting colder, it's the perfect time in which to turn on your oven and get roasting. Root vegetables work best in this kind of cooking, so try your hand at any kind of flavor combination; they all work well. This roasted squash oat bowl makes the best out of the tasty vegetable, serving it up as it should be cooked. For an extra hit of nutrition, serve your bowl alongside a soft boiled egg. Dip your roasted squash into the runny yolk and enjoy the first meal of the day.
This oat bowl might have all the elements of a traditional breakfast, but don't be fooled into thinking that's what you're going to get. Creamy, flavorsome and just a little bit spicy, this oat bowl is the perfect accompaniment to a particularly cold morning. Great for your health and even better for your tastebuds, this might just become your brand new favorite recipe.
Who said that you couldn't get a serving of vegetables at breakfast time? This bowl is about to change everything you thought you knew about the first meal of the day. Packed full of bacon, eggs and rich cheddar, the bowl is a powerhouse of fresh ingredients. Be warned on this one; it's so filling that it might just see you through the rest of the day, no snacking required!
With so many seasonal spoils on offer out there, it would be a shame not to make the most out of the highlights of fall. This herbed pumpkin and leek oatmeal certainly does a good job, showing off some of the tastiest produce of fall. If sweet pumpkin isn't your thing, this is is the dish for you. Rich in flavor and full savory spice, this oat bowl shows off the potential of the root vegetable.
If you're making more of a feast out of the first meal of the day, this chorizo and red pepper sauce oatmeal dish should be high up on your cooking agenda. Spicy and rich in flavor, this savory breakfast bowl is something that should be lingered over in the morning, so make sure you take your time when you're eating. The bowl can be finished off with a gently poached egg and enjoyed as you read the morning papers.