Fitbit finally can jump the pool with you via the Flex 2. In fact, the new tracker from Fitbit not only takes a dive but...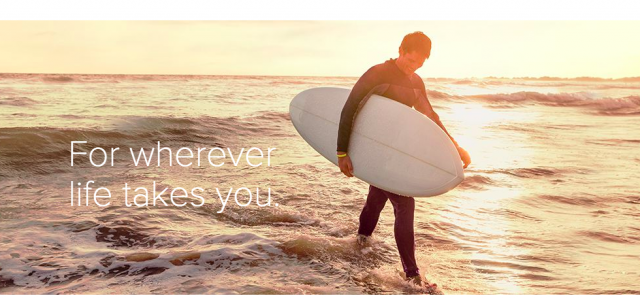 Fitbit finally can jump the pool with you via the Flex 2. In fact, the new tracker from Fitbit not only takes a dive but can recognize when you are in the water. That's huge news for fans of Fitbit who like to swim. Prior to this news, the only options were on the costly side.
For more swimming tracker options, read 9 Legit Fitness Trackers for Swimmers
Fitbit nails it with the Flex 2. What they've added to the second version of their simple design, isn't much in the way of features. It's the critical bullet point differentiating Flex 2 from similar devices.
Waterproof
Fitbit's old competitor and lawsuit opponent, Jawbone, was never able to sell a waterproof device. Now it doesn't seem they will.
One of the straws credited with breaking Jawbone's back in the fitness tracker department was the promise but then non-delivery of a waterproof fitness band in the UP3.
After several delays, they delivered a device that couldn't swim. Fans felt betrayed.
Fitbit, on the other hand, never made such promises with an unreleased device. [Lightbulb moment: All Apple's prototype secrecy makes sense.]
The Flex 2 is waterproof to 50 meters. If you know anything about waterproof specifications, you understand this doesn't mean you can take your Flex 2 diving. It just means you can soak this thing.
It's not just enough to be waterproof for a tracker to have value. Many waterproof devices don't do much more than keep working underwater, maybe tracking your activity. The Flex 2 tracks your laps in the pool.
Fitness
For swimmers who also wish to keep an otherwise active life, the Flex 2 is perfect. It does more than count laps.
Strangely, according to Fitbit, this device is not a fitness device, the second level of trackers they sell.
Fitbit manufacturers three levels of wearables, the third of which is their performance category. They categorize the Flex 2 in the first group, their everyday activity trackers.
Swimmers would beg to differ, but whatever. Who cares what Fitbit calls it. It's a fitness device.
The Flex 2 counts steps, tracks distance, and your calories burned. It has Smart Track, Fitbit's method of interpreting movement to determine your activity automatically.
Don't move much? That's cool. It's also a sleep tracker. With five days on one charge, you have no excuse for not tracking every move you make (or don't make).
Style
There is no screen on the Flex 2, just five LED lights. Messages received and settings are through your smartphone.
The refreshed band comes with many different colors. If you aren't into jus to one color, no sweat. (See what I did there?)
You can swap out the super-thin technology part of the band to place in a different color band. You'll also have the ability to place it in more fashionable bands or pendants.
The goal is that you wear the Flex 2 everywhere.
Flex 2 also send notifications, like incoming calls, texts and more. Like the Flex 1, it will nudge you when you've been inactive for too long.
The device is on the Fitbit site, but won't ship until October. If you cross train, this is the fitness tracker for you.
For many buyers, the Fitbit name is enough to sell it. Funny, considering ten years ago Fitbit was nobody on the fitness map. To be fair, wearables were nobody on that same map.
As fast as you think you move, the wearables market is moving faster.