Launched recently Kickstarter, by FMTwo Game Inc., the Gameband smartwatch will bring super high-definition Atari games to your wrist. The first thing I did...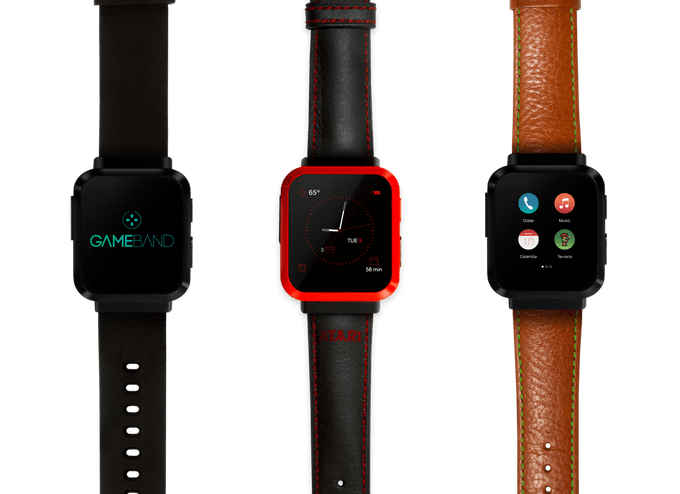 Launched recently Kickstarter, by FMTwo Game Inc., the Gameband smartwatch will bring super high-definition Atari games to your wrist.
The first thing I did when I read about Gameband was I rolled my eyes. Not another specialized smartwatch! How many of these do we need? And it's square… not another squarey.
Now 42, I grew up playing Atari, at least, when I was hanging at one of my friend's houses. In an age when we are pushing virtual reality to the limits of our technological capabilities, how anyone could take interest in Frogger is beyond me.
The FMTwo team funded their Kickstarter campaign within a day of the launch. This means we will likely see Gameband on Christmas 2017 wish lists.
The target demographic for this device is aging gamers about my age, and their snot-nosed kids who think repackaged old stuff is cool.
Less is more design
The team at FMTwo stripped their design of unnecessary chips, making more room for things like a bigger battery and an expansion slot. Gameband follows the form factor set in place by Apple's Watch.
To the untrained eye, it looks like an Apple Watch. Drawing from that example, the Gameband dimensions are similar to the smaller Apple Watch, but a little thicker. The glass face of Gameband is flat. There is also a small bezel, Atari-red on the most featured version.
Like most smartwatches, you'll have access to different band options, silicone or leather to start, but one can imagine flexible battery-extending versions somewhere down the road.
FMTwo cites, "inspiration from rugged weaponry and vehicles" for their design. Considering the crowd that will wear Gameband, rugged is a good choice.
Powerful technology
The Qualcomm Snapdragon 2100 is central to Gameband's design and function. It's 30% smaller than the previous chip from Qualcomm and uses 25% less power. This allowed FMTwo to build more room in the Gameband for a bigger battery and add a micro-SD port.
The addition of that port, which is also a USB-C port, expands the functionality of the watch. With it, you can port into your computer to play games on a bigger screen. You can also store or transport files, including MP3s or photos.
While it won't measure your heart rate and the Gameband has no idea where you are in the world, (no GPS chip), it offers WiFI and Bluetooth 4.2. The AMOLED display is the high resolution you can get on a tiny screen these days.
Ships Fully Loaded
After funding the campaign in one day, Gameband updated their Kickstarter with this comment: "We said we would ship a minimum of 5 mini-games on each unit: having hit our goal we will be extending that to 10 mini-games per Gameband!"
The launch software for the device will include basic Android functionality, general productivity, but also the companion app. With Bluetooth 4.2, users will enjoy the most streamlined functional Bluetooth available today.
Gameband users will also appreciate access to Alexa voice control, proving my argument that the end of the keyboard is nigh. They'll also have the ability to launch PixelFurnace via the expansion slot. PixelFurnace is to Gameband what iTunes is to iOS devices.
Standard apps for the device are a calendar, contacts, phone dialer, weather, an alarm, and a music player. It was only to include Asteroids, Pong, Breakout, Centipede, and Crystal Castles.
Since banking goal, they're adding Tempest 2000, Battlezone, Firefox, Missile Command and Yars Revenge to the list. That's a lot of software crammed into one smartwatch.
Gameband runs Android OS, but Gameband will pair with iOS and Android devices. If you're already sporting a smartwatch, Gameband may pose a conflict. Are you gonna be the wearables fanatic who's one with fitness or master of the gaming universe?
For the record, I'm not sold on Gameband, but I know plenty of people my age who would disagree. By the numbers on their Kickstarter, my opinion is irrelevant.
If I were to consider my circle of peers, most of them would opt to beat their old pong scores over tracking their daily activities.
Me? I'm still waiting for Apple to make a standalone Watch. Sigh.
You can jump on the Game-bandwagon by supporting their Kickstarter campaign
.