Google's recently announced Daydream VR headset is the first headset wrapped in something familiar to your skin, cloth. Unless you consider Google's cardboard project,...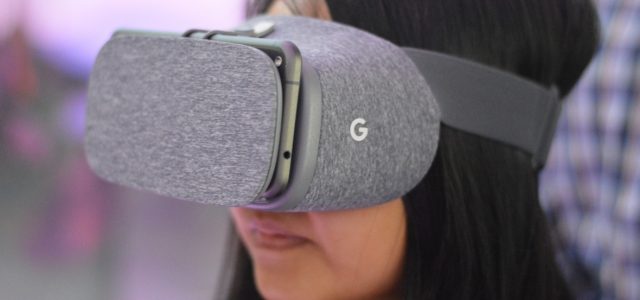 Google's recently announced Daydream VR headset is the first headset wrapped in something familiar to your skin, cloth. Unless you consider Google's cardboard project, it's priced lower than any similar headset out there.
The question we want answered is, will these features be enough to take Daydream to the top of your VR list.
In a recent study by Juniper Research, the virtual reality industry will sell over $50-billion by 2021. Considering the future for adult toys mixed with VR, it's possible those numbers are light, but I digress…
Daydream may not have the chops to go up against serious VR headsets like the HTC Vive or Oculus Rift, but the format is more welcoming and the price opens up the door to folks who might balk at a $500 system.
It's not going to work with your iOS device, though.
Background
Google's history with virtual reality was really a marketing plan. One could argue they introduced Cardboard in 2014 just to get some press.
Cardboard was the DIY VR headset plans which one could duplicate from any sturdy piece of cardboard, then pair with any smartphone. They were crude but beautiful in their own right.
The experience used the power in the smartphone paired with the Google companion app to create simple VR worlds. Affordable, yes, but users complained about the refresh rate, field of view, and overall willing suspension of disbelief. It wasn't real enough.
What seemed like Google missing the point of virtual reality, Cardboard gave us the sample plate. Many complained about its limitations, only to upgrade to something like the Rift, but not everybody could afford that kind of upgrade.
Introducing Daydream…
Daydream
This is no Oculus Rift. This is a deluxe, upgraded version of cardboard. Compared to cardboard, Daydream is much more than some cloth wrapped around a plastic shell.
There is a better balance of weight with Daydream, a more enclosed user experience, plus users have more control. The Daydream comes with a remote, allowing you to more easily navigate the virtual work you are exploring.
That world, in fact, may not be virtual. With access to Google's library of content, you can explore places like the Eiffel Tower in 3D reality using the Daydream setup.
In two years phones haven't changed much, but enough that your VR experience with today's smartphones versus one from 2014, will be better.
We can only assume, as phones get more powerful, that headsets like Daydream could step more into the limelight.
Compatibility
Sit down Apple fanboys. You won't like what comes next. This is no iOS compatible product. Don't worry. The team in Cupertino are baking something just for you. It'll be even better! But back to Daydream…
Google would like you to pair this headset with their newest venture, the Pixel phone.
This is Google's first branded smartphone. It might not be waterproof like the iPhone 7, but the specs are otherwise good. Moreover, it pairs like a champ with Daydream.
Only certified Android phones will work with this headset. Google isn't yet saying which, but they have to have the right hardware to work with the companion app or the tech won't work.
What will put the Daydream on more faces than the Samsung Gear VR, is the Daydream is cheaper by $20. For those in the discount buying market, a price difference of $20 matters.
Google is offering free Daydreams to the first people who purchase one of the Pixel smartphones. It may be all the excuse one needs to upgrade their current smartphone.
It may be all Google needs to dominate the portable VR market overnight.