Cooling down this summer might be one of your top priorities and when it comes to staying chilled, it's all about your freezer. Making...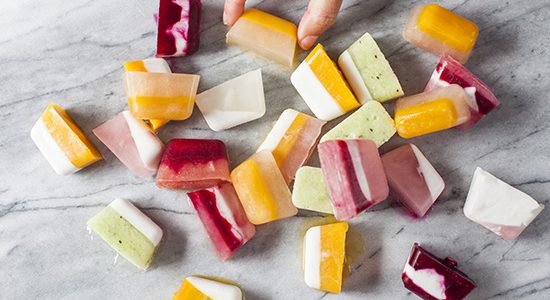 Cooling down this summer might be one of your top priorities and when it comes to staying chilled, it's all about your freezer. Making use of cold and frozen foods is a great way to keep your body well protected against the rising temperatures and try a whole range of healthy recipes. While ice creams and chilled soups might have got all the attention in previous years, this season can be all about the ice tray. Not just good for making ice, your freezer tray can be used in a whole range of healthy, tasty ways. It's all about knowing how to hack what you already have.
Berry Fizzers
Berries are packed full of nutrients and antioxidants and making them a part of your regular diet can seriously pay off in the long run. If you're trying to keep cool and do your body a little good, these berry fizzers ought to do the trick. All you need to do is pop a few berries of your choice in the freezer tray, cover with seltzer and let the freezer work its magic. You will have a taste of something refreshing and sweet in no time at all!
Seasoning Cubes
While using ice cubes in your drink might be what comes naturally, you can hack your freezer tray to make your cooking life easier and flavorsome, too. If you want to save your herbs for a later date without them going bad, try chopping them into a freezer tray and covering with a little vegetable stock. Pop the herb cubes in the freezer and wat for them to harden. The next time you're cooking, you can drop them directly into a pan for an instant taste explosion.
Smoothie Squares
When all you want to do is lie in the shade and ward off the heat, getting the energy to whip up something healthy can seem like a very big struggle. It's time to plan ahead. Try whipping up a larger portion of your favorite smoothie and saving the excess in your freezer tray. When things get hot, you can rest assured in the knowledge that you have a tasty snack already and waiting for you!
Treating yourself and staying healthy can seem like a real struggle but by adapting some of your favorite recipes, you can get the best of both worlds. These healthy peanut butter cups might look sinful but once you see what's inside, you might be in for a pleasant surprise. Made using dark chocolate and honey, the cups cut out the sugar entirely, helping you to stay on the healthy straight and narrow. Keeping these in your freezer can help you to keep your cravings in check, the right way!
Egg Saver Cubes
When you've made too much food, you can face a dilemma as to what to do. This is where your freezer comes in. If you're worried about your eggs going bad, try scrambling them up and pouring the liquid into an ice tray. The next time you want eggs for breakfast, you will have everything you need waiting in the freezer!
When hunger calls, you can be tempted to reach for the cookie jar but there's good reason why you should try and whip up something healthy. These frozen energy bites are packed full of  seeds and dates, helping you to get your nutrient fix while staying healthy. Keep a tray of these in your freezer at all times; you're not going to regret it.