On March 14th, 2002, Kevin Warwick lay in the Radcliffe Infirmary in Oxford, England. He'd already implanted a RFID chip in 1998, but he...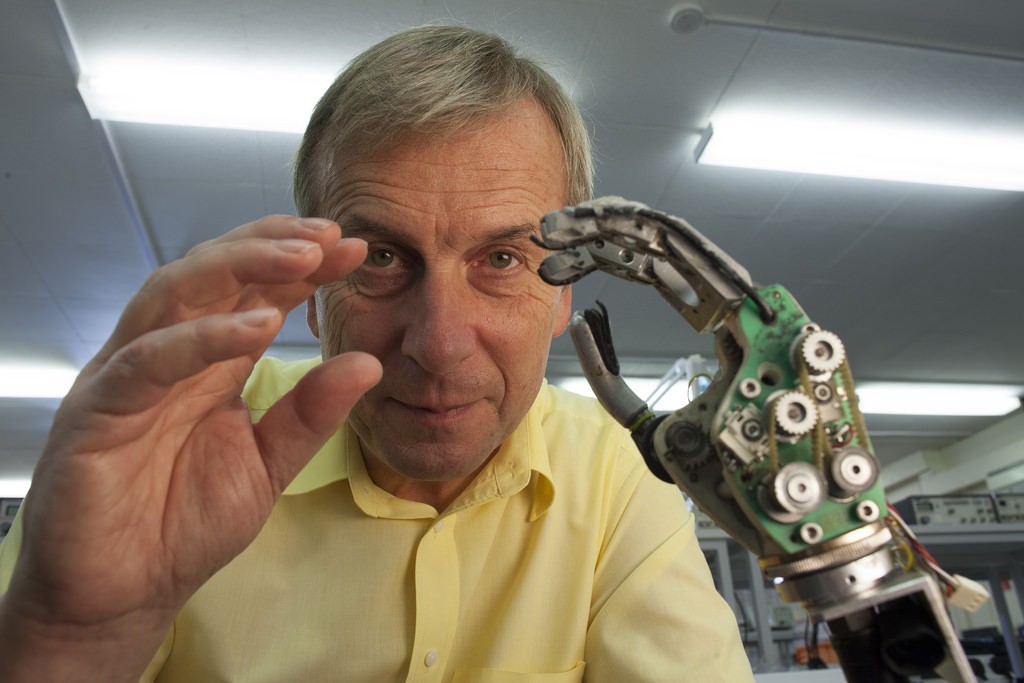 On March 14th, 2002, Kevin Warwick lay in the Radcliffe Infirmary in Oxford, England. He'd already implanted a RFID chip in 1998, but he was going to implant a more complex neural interface.
This one would do more than inform a veterinarian who was his owner. When it worked, it would facilitate Warwick's brain moving a robot arm as if it were his own.
Much of what current grinders do with their bodies they can thank Warwick for pioneering. He was one of the first to hack the human body like a cyborg. In fact, he named his project, Project Cyborg.
When guys like Elon Musk talk about melding with technology to stay ahead of artificial intelligence, he's not saying something new. Warwick has been saying things like that since Musk was a kid.
Background
Born in 1954, in Coventry, England, Warwick is English but he belongs to the world as much he does England.
Warwick was a smarty-pants from an early age, quitting school at age 16 to pursue a career in utilities. He later returned to school, completing his degree in 1976, then his Ph.D. in after tat, taking a job in research at the Imperial College in London.
Warwick is a competent engineer but can hold his own in other fields, like bioethics, cybernetics, and artificial intelligence (AI). He's a fellow at two schools and he teaches in Prague, Scotland, England, and the United States to name a few.
His curriculum vitae reads like a college counselor's wall. It's hard to tell where one degree ends and the next begins. To say the least, he's educated.
Project Cyborg
Warwick's career captures research in AI, biomedical engineering, and robotics. This combination of interests is what first compelled him to insert a RFID chip under his skin.
He called the first iteration of the project Cyborg 1.0. That chip, he implanted in the forearm. The implant facilitated opening doors, turning on lights and other switches by swiping his arm over switches.
This is the same technology that Amal Graafstra grafted into his hand when he got sick of unlocking his office door fifty times a day.
Cyborg 1.0 was a success, so in 2002 Warwick stepped up the project in Cyborg 2.0. In that phase of the project, he installed a more sophisticated chip in his arm.
RFID is cool but very limited by space and power. This new device in Warwick's arm would facilitate him moving a robotic arm from anywhere in the world. The 2.0 project was also a success.
A medical team attached nerve fibers in Warwick's left arm, connected to an implant created by Warwick himself. He was not only able to manipulate the robot arm, Warwick also could control an electronic wheelchair.
These experiments had obvious, positive implications for amputees.
Pedigree
Scientists and academics divide on Warwick. They consider him everything from a pioneer scientist to a low-life entertainer.
The man has two Doctors of Science, and six more honorary Doctors of Science and an honorary Doctor of Technology. He's earned countless awards from schools for his work, appeared in books and periodicals for the same work.
Warwick has published five books. He's been lecturing at schools since 1998. The last time he spoke was the Whales Festival of Innovation in 2016.
Whatever the conservative voices of academia have to say criticizing Warwick, there seems no end to the reputable organizations that do respect his work.
As you've probably figured out already, Warwick's made it out of Radcliffe Infirmary in one piece… well, with an extra arm. He was able to move the robot arm remotely, an experiment repeated in various forms since then.
More recently, scientists at Harvard tested brain implants similar to Cyborg 2.0, but without the negative effects of scar tissue buildup. Those researchers likely read Warwick's body of work before starting their own.
If you're considering the road of biohacking or just have an interest in the movement, start your research with Warwick's. Read his books, watch every video you can find on the man. Then write your own story.