The first of its kind, the LVL (level) tracker intends to keep you more hydrated. It's a wrist-based tracker with one main goal, track your...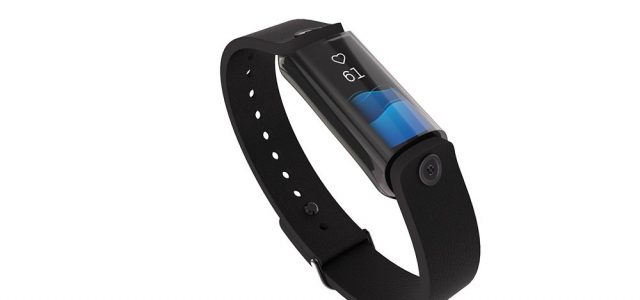 The first of its kind, the LVL (level) tracker intends to keep you more hydrated. It's a wrist-based tracker with one main goal, track your hydration. It will even remind you when you need to level up on water. As LVL demonstrated, crushing their Kickstarter goals (18x over as of this writing), there is a market for managing one's hydration, necessary or not.
People used to drink from hoses and fountains. We also used to believe that water would make you slow on the field. Water was for the weak. Then kids started passing out on athletic fields.
Sometime in the 90's, the pendulum swung. People started carrying water wherever they went. You could argue we went off the deep end.
Bottled water seemed to elevate your virtues. Only a person of quality would carry his own water.
As is the case with anything worth having, needed or wanted, the inevitable anxiety followed. It wasn't good enough that we carry water everywhere, we needed to know if we were getting enough if the quality was pure and if we were 100% hydrated.
LVL abates those fears with on-the-go hydration data and reminders to hydrate, plus other fitness data and notifications, all in a wrist-worn device. The question we have to ask is with this device is, do we need it?
LVL Hydration
Too much water makes you sluggish, can give you a side-stitch. Too little or not enough over time, you may lose motor control or worse, pass out, even die.
It would take some serious dehydration to kill you, but it's possible to overheat or suffer heart failure, even stroke. While the bad side of things is some serious consequences, so is the bad side of flying, but people take off and land every day.
One theory goes that we generally hydrate well enough if left alone to let our bodies do what they do. It's only when football coaches run bizarre no-water agendas that things get scary.
The other theory goes that many of us are under-hydrated at all times. According to data cited by LVL team, many is around 75% of us. That's a lot. The net effects of these drops affect every aspect of our lives.
We drink more coffee to fill the created energy gap from under-hydration, we sleep poorly, eat too much food, and don't perform at our best. It's this latter theory that the makers of LVL intend to leverage.
Fear is a great sales tool.
LVL Design
For a straight fitness tracker, LVL is a looker.
The makers of LVL understand something so many businesses fail to grasp. A product or service must present desirable features, but what makes people spend money is how that product or service makes them feel when they engage with it.
People love coffee, but Starbucks capitalized on how going to buy coffee could be an experience.
LVL didn't need to make a wearable disguised as jewelry, in some kind of 3D skeuomorphism. They let function guide the design elements without dominating the overall feel, even though the final product is different than anything else you'd put on your wrist.
The LVL device is aware of both its function and fashion. Housed in a tube of plastic, which looks like glass, it's a simple design. The ends of the device are angle cut, where the strap attaches via a pentalobe screw on either side.
To start with, they offer two strap materials in several color options, black or brown leather, or different color silicone bands. Even the silicone strap looks better than the band on most silicone trackers.
LVL Specs
LVL uses a patented red light technology, bounced off your skin then measured to monitor your vitals. That includes your hydration levels.
In addition to real-time hydration data, LVL tracks heart rate, sleep, activity, calories and even your mood. It will even notify you of calls and texts, utilizing the simple 12x24mm display of the device.
You get four days of battery on one charge. It will connect with your iOS or Android device via the companion app.
The device is waterproof with a rating of IP67, which means you can swim with it for about half an hour, but it doesn't track laps. You don't have to carry your phone for LVL to work, but if you want GPS data you'll need it. LVL doesn't track that yet.
Going one step further, the LVL is open source with an API for those who like to code. The future for this device could morph into something different. That, in and of itself, is kinda exciting.
As an old school athlete, now lifter and volleyball player with a ton of virtue (I carry water everywhere), I'm skeptical. I'm not sold on the value of this device for my life.
That said, I cannot deny the sweet design elements. That alone could be enough to get one on my wrist full time.
LVL does not have a website yet, but you can find answers to most questions on their Kickstarter page. To their credit, they have previous Kickstarter experience, where they met goals and shipped on time.