Do you get enough greens in your diet? While balancing all of the essential nutrients is a sure fire way in which to improve...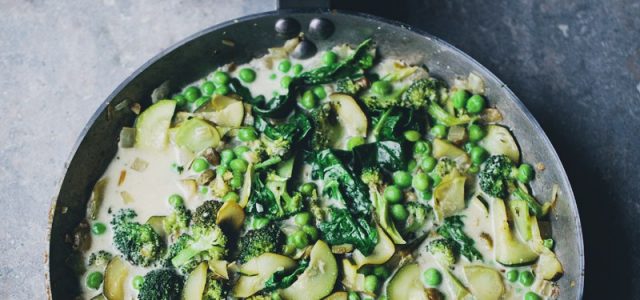 Do you get enough greens in your diet? While balancing all of the essential nutrients is a sure fire way in which to improve your health and stay in good shape, there are some foods that are more important than most out there and packing them into your diet should be a top priority. Green, leafy vegetables have long been associated with improving heart health, lowering cholesterol and giving you enough slow release energy to last the day. Want to get more of them in your diet? These recipes are lean, green, fat fighting machines and they might just turn your health around.
You heard it; spinach pancakes. While this breakfast number might not look exactly the same as your favorite early morning snack, it is packed full of just as much flavor as traditional pancakes and will do you a whole lot of extra good, too. The secret is in the filling; containing 2 cups of the leafy vegetable, the pancakes sneak the ingredient in right under your nose, turning the batter a fresh mint color. You can serve them up with a little maple syrup and butter if you want a little extra kick, although they do work wonders when served up solo.
Want a burger that has serious bite? This green monster veggie number is the recipe for you. As well as containing a whole load of superfood kale, the burgers are stuffed with peas, broccoli, celery and walnuts; that's enough nutrients to take on any sort of illness! Better yet, the patties themselves are jumbo in size, meaning that you can enjoy all the benefits of the healthy burger and still feel full at the end of your meal. It's time to go green!
Soup is one of the healthiest, most satisfying ways to get your foodie fill at lunchtime and it turns out, it too can be used to serve up a whole range of green veggies! This super green soup certainly lives up to its name and, containing 3 and a half cups of green vegetables, will keep you in great shape. You can try whipping up a larger batch and freezing the remains for a later date; that way, you will always have something healthy to hand when hunger calls.
Sometimes, simple really does it best. This pasta dish is incredibly easy to rustle up and, containing 5 different types of vegetables, can work wonders for your health. Rich in fiber, naturally gluten free and high in complex carbs, the recipe is a real crowd pleaser and can be served up at any dinner table.
Going green doesn't have just to be about savory food, either and it turns out, there are a whole load of sweet treats out there that can help you to get your healthy fix. These pea pops blend peas with natural yogurt and fresh mint leaves, balancing the delicate flavors to perfection. You might want to whip up a bigger batch, however; once you try these once, you might be hooked for life!