Granola is on the up and whether you're incorporating it into you breakfast, lunch or mid morning snack, the food can help to give...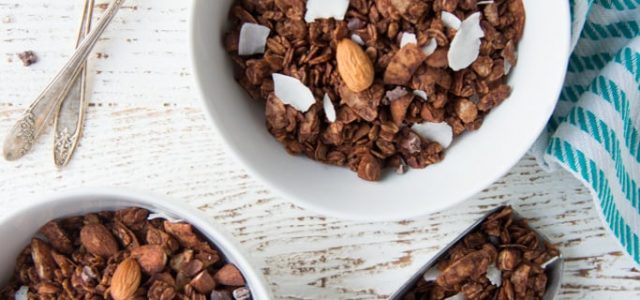 Granola is on the up and whether you're incorporating it into you breakfast, lunch or mid morning snack, the food can help to give your energy levels a serious kick. While shop bought granola can hide a hundred different sins, making your own at home is a great way of cutting down on the extra sugar and giving your health a boost at the same time. Whatever your tastes, you can whip up a breakfast that is hearty, low in fat and great for productivity levels, helping you to see the morning through with a bang. Oats away!
Starting your day with a healthy mix of nutrients and minerals will help you to make the most out of your health and feel better all morning. This tasty breakfast recipe does away with the refined sugar, getting its sweet kick from things like honey and maple syrup. There's more to the recipe too; packed full of healthy nuts and seeds, the granola will help to give you your protein fill first thing in the morning, making focusing on the task at hand a great deal more easy. Whoever said that breakfast is the most important meal of the day certainly knew about this recipe!
Craving something even more sweet? Try a taste of this double chocolate granola. Vegan, gluten free and void of any dairy, the recipe is a great deal more healthy than you would think and can help to see you through any hunger pang. Better yet, this recipe is incredibly low in sugar, meaning that you can pile your bowl really high without feeling bad about it!
Want to feel fuller for longer? This is the breakfast recipe for you! Loaded with good stuff like almonds, pecans and walnuts, this recipe packs a seriously healthy punch and will leave you feeling great all day long. You can try whipping up a larger batch and leaving it to dip into throughout the week. With a tasty snack as delicious as this one, however, it might not last for very long!
FInding a gluten free breakfast can be a hard task and if you're fed up of browsing the supermarket shelves, it might be time to take to the kitchen. With relatively few ingredients to speak of, this granola recipe can be pulled together in a flash, giving you the chance to enjoy a tasty, balanced breakfast even when you have very little time. If you want to go further, you can try adding your own toppings to the recipe, piling it high with the dried fruits and nuts that you like best.
Fruit and granola go together like a match made in heaven and experimenting with different flavors is a great way of finding a recipe that you really love. Loaded with the healthy, balanced fruit, this granola is a great way of filling up on all the essential nutrients first thing in the morning. The fruit provides all of the sweetness that you need, meaning that you can cut out all of the bad stuff!