You don't have to stay put. From a company that specializes in backpacks for gamer gear, MSI offers us something new. They call it...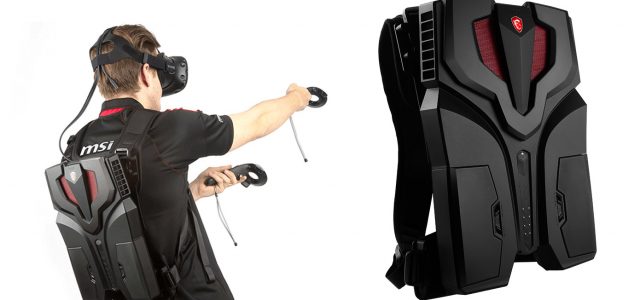 You don't have to stay put. From a company that specializes in backpacks for gamer gear, MSI offers us something new. They call it VR One. Forget about tethering your Oculus Rift or HTC Vive to your powerful PC. Strap that PC on your back so you can wander the countryside with your VR experience.
While the virtual reality landscape appears to be widening, there is a clear divide between devices.
There are those that are portable, offering diminished realities from less powerful computers. Then there are those that offer spectacular realities, but require powerful [read: not portable] PCs.
What MSI seeks to do is hybridize these two experiences.
The VR One is a stylish desktop computer with shoulder straps that will free your VR experience, but it has its limitations too. The big question is, do you think it's worth it?
The VR One
It's a backpack. It's a computer. Nah, it's a computer.
You can't throw a sack lunch in the VR One, nor would you toss the VR One on the couch. It's not for toting. You'll gently strap it over your shoulder, double-checking the straps are tight.
Designed in combination with HTC to work with the Vive, the VR One will work with the Rift if that's your preference. There are enough ports to connect with NASA's mainframe.
Battery power, swappable during play, is around 90 minutes. Under the hood, the processor for this lifestyle wearable is the Intel i7. The graphics card is the GTX 1070 mobile graphics card, good enough to spar with quality gaming laptops.
Limitations
Assuming eight pounds on your shoulders is tolerable, your only limitation will be battery life. You can play for 90 minutes on one charge.
For this old fella, that's more than enough game time, but serious gamers will want more.
Thankfully, the VR One allows a hot-swap of the batteries. That means you don't have to power down to change them, but you may want to pause your game or hide someplace in the game world for a minute.
If you want to connect the Oculus Rift to the VR One you will need to consider if the tracking cameras will work in this set-up. Other than that, barring you can afford the device, you're only as limited as you wish.
So…
MSI isn't the only game in town. Alienware, Zotac, and HP are working on similar packs.
To truly assess the value, we'd have to know the retail price of the VR One. The closest we can get to a quote is an article in the Taipei Times, where the price is assumed around $2200 when the VR One launches end of the month.
For a gaming console, that's a tough price, especially for one that is so specific. It's twice the cost of most VR consoles.
You won't likely use the VR One for writing term papers or surfing, but in theory, you could use its drive to play old school games or something.
That said, if you're still writing term papers, you won't be shopping for a backpack gaming console quite yet.
These VR backpacks are toys for rich kids. Albeit the prototypes look pretty cool, it feels like the first VCR cameras, where the camera came with a shoulder bag. It was only a few years before those bags looked pretty silly.
That was the 80's. At today's speed, the VR backpack may look tired before the price comes down. We predict the life of this convenience will be short lived.
VR headsets in the next five years will be nothing like what we're wearing now.