The brainchild of two fitness-minded engineers, The Naked 3D Fitness Tracker scans and weighs your whole body in 20 seconds, eliminating your brain's biases, presenting...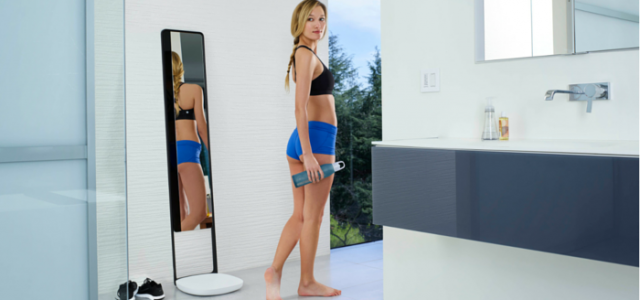 The brainchild of two fitness-minded engineers, The Naked 3D Fitness Tracker scans and weighs your whole body in 20 seconds, eliminating your brain's biases, presenting you with raw data instead of perceptions.
It will replace every tool you've been using to measure your body fat or mass, including the water displacement test you get at the University. (No, we know you don't, but somebody does, to the tune of $100 or more per visit.)
There is a divide amongst fitness authorities. Should we ignore the scale or use it every day? Should we listen to the mirror or ignore it? Both can tell you something about your current state of fitness, but both can play tricks on you too.
If Naked's cofounders, Farhad Farahbakhshian, and Ed Sclater, have their way, we won't ignore them. We'll just use them better.
The argument against the scale is that the data you get is a product total mass. This could include body fat, muscle, bones, organs or even worse, water weight.
Fluctuations by more than percentages of a pound in a 24 hour period are never representative of just body fat loss, the thing most folks are trying to drop.
At 3,500 calories stored per pound of fat, the likelihood that someone dropped a full pound of fat in one day is unlikely, not impossible, but not likely. Most people aren't eating that many calories in a given day, especially if they're trying to drop weight.
Large fluctuations on the scale are usually more closely related to a user's salt intake, scale accuracy, user error or all three.
The mirror, on the other hand, is all perceptive. While some would argue that considering your refection as a better indicator of your health, most of us don't see ourselves the way we truly are. Our eyes skip from problem areas to parts of our bodies we prefer to look at.
Depending on our emotional state, we'll warp our perceptions of that data to suit our emotions. Body dysmorphia, the soil where more serious disorders, like bulimia or anorexia, can grow, is exacerbated by the reflection people see in the mirror.
Again, it's a user error issue. You can't see you how you really look.
You look great, BTW.
The Naked 3D Fitness tracker eliminates you from the equation, at least the part of you that's tied into the user error equation. All you do is step on the Naked scale. It does the rest.
On the scale, you are rotated 360 degrees in a controlled 20-second scan. During that time, using technology similar to what is found in modern gaming systems, Naked takes a pinpoint accurate scan of your body, weighs you, then correlates that data into a robust profile.
Because the scan of your body is simply a 3D map, with none of the details where your eyes might fixate, you can see your body more clearly.
So can Naked.
The information from Naked comes to you via an app, either Android or IOS, on your tablet or phone. Over time, you can use the data to track what changes are taking place in your body, without all the voices in your head getting in the way.
You can take a step back to really know if the efforts you're making are paying off or not.
The mirror-scale combo is no Ugly Betty either. These are elegantly married, take up a small footprint, and require little from you. The mirror plugs into the wall outlet. The scale recharges wirelessly from the mirror.
Again, all you have to do is stand there for 20 seconds.
Sound like something you want? Don't let the $499 price tag throw you. This could be the fitness tracker to finally change your life.
Besides, how much money have you already tossed at gym memberships, quick-fixes, diet pills, books and miracle programs, only to give up when they don't help?
The Naked 3D Fitness Tracker is applied science. It's raw data. It's your data. You don't even have to wear it on your body. Sadly, this product is barely in pre-sale. The official release isn't expected until March of 2017.
Start saving your pennies now.