If you are looking to get a healthcare degree online, you're in good company. More and more people are choosing to pursue education online....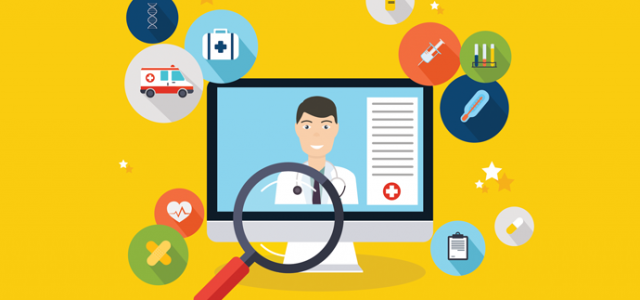 If you are looking to get a healthcare degree online, you're in good company. More and more people are choosing to pursue education online. Distance learning has become a more popular and viable way of getting a degree. This is even true for healthcare education.
While you can't become a surgeon without hands-on experience, there are many other options for online healthcare degrees.
Medical Assistant
Medical assistants help doctors do paperwork, get lab tests, and take care of other minor outpatient tasks. As a medical assistant, you might be responsible for a host of tasks. MAs can work in hospitals or in general doctors' offices.
Examples of other tasks they might carry out include checking vitals, giving medication, and generally helping doctors in the course of care. Medical assistants are often trained in front-office tasks such as billing, patient registration, and more.
One tempting aspect of becoming a medical assistant is that your education is much quicker. This lets you start your career much faster and start making a substantial salary.
What Education do Medical Assistants Need?
Medical assistants may either be Certified Medical Assistants or Registered MEdical Assistants. While these are two different types of certification, they require the same education. This program usually takes between one and two years.
Medical assistant education is ideal for online education. It's common to find it at community colleges and in vocational programs [1].
Medical Billing
If you have ever had questions about a doctor's or hospital bill, you have probably called a medical billing office. The people who work there are responsible for handling all the financial aspects of the medical facility, particularly in regard to patients. It is common for them to either work from home via an online platform or in an on-site billing office.
Medical billing assistants need to be highly organized and detail oriented, since they process a lot of paperwork. Their job is to ensure that every patient's bill is accurate and processed through their insurance company.
As you can imagine, medical billing assistants need some specialized skills.
What Education do Medical Billing Assistants Need?
Becoming a medical biller can take a longer time depending on what level of education you plan to receive. However, a standard certification takes less than a year. During that time, you will learn how to use medical billing software and work with insurance companies to process claims. You will also learn medical terminology to ensure that you know how to bill patients accurately [2].
Health Services Management
Working in health services management means managing a huge range of tasks. This front-office job requires managing administrative tasks related to running a healthcare facility. It is a high-responsibility job that combines knowledge of medical terminology, insurance claims, medical billing, and hospitality.
If you are interested in business and healthcare, working in health services management could be perfect for you. These jobs are in high demand, and you might work anywhere from a hospital to a doctor's office to a government facility.
What Education do You Need to Work in Health Services Management?
Getting a degree in health services management generally takes two to three years. During this time, you will learn budgeting skills as well as medical terminology, issues in medical ethics, and all about the American healthcare system and working with insurance companies [3].
Nursing
Believe it or not, you can obtain a nursing degree online. Of course, you will need to do the practical training in person. But many online programs partner with local hospitals just like in-person universities do to ensure that their nursing students get the hands-on experience they need. As for classroom lectures, these are all given online. Nursing is a perfect degree from learning from home while also getting valuable in-person experience.
What Courses Can Nursing Students Take From Home?
Your course load will depend on your university and program. However, getting a nursing degree from home is easy. Examples of nursing classes you can take remotely include: research classes, ethics in nursing, patient care, and informatics [4].
Related Topics (Ads):
Physical Therapy
Working in physical therapy can be a rewarding and lucrative experience. Physical therapists might work in one of many specialties. This might mean focusing on sports injuries, senior care, or even pediatric care.
What Education do I Need to Work in Physical Therapy?
To become a licensed physical therapist, you will probably need to get a master's degree. Luckily, this is increasingly a viable option for online study. Some specialties might require you to get a doctorate, but this is not the case for everyone [5].
What Should You Look For in an Online Program?
Deciding on an online program can be intimidating, especially when it will shape your future career. So what should you look out for?
First and most obviously, make sure that whatever program you choose is accredited. Online programs and vocational degrees are held to the same standards as every other institute of higher learning. That means that any school you attend needs to be accredited to be taken seriously by future employment opportunities. This is also how you ensure you are getting the best possible education.
Secondly, research financial aid options before you sign up for an online program. Online programs are not as expensive as in-person courses, but they can still cause a financial strain. For this reason, it's best to find an institution that offers financial aid for distance learning.
Some online programs offer job placement for alumni. This can make a huge difference in your chances of starting your career quickly and successfully, especially in a high-competition field like healthcare. Look for an online program that offers job placement or other network connections for their students after graduation.
Online higher education is rapidly becoming a more mainstream option for students around the country. Healthcare degrees are no exception. If you want to get an online healthcare degree, it's now more possible than ever. All you have to do is find the perfect program for your goals.
Related Topics (Ads):
[1] https://www.medassistantedu.org/requirements/
[2] https://www.medicalbillingandcoding.org/qnas/how-long-does-it-take-to-get-certified-as-a-medical-biller/
[3] https://www.healthcare-management-degree.net/become-health-care-manager/
[4] https://www.independence.edu/blog/valuable-online-healthcare-degrees
[5] https://www.bestmedicaldegrees.com/best-online-degrees-healthcare/