When Google Daydream came out, I was a little bummed. It only works with Google Daydream certified phones. Daydream validated what...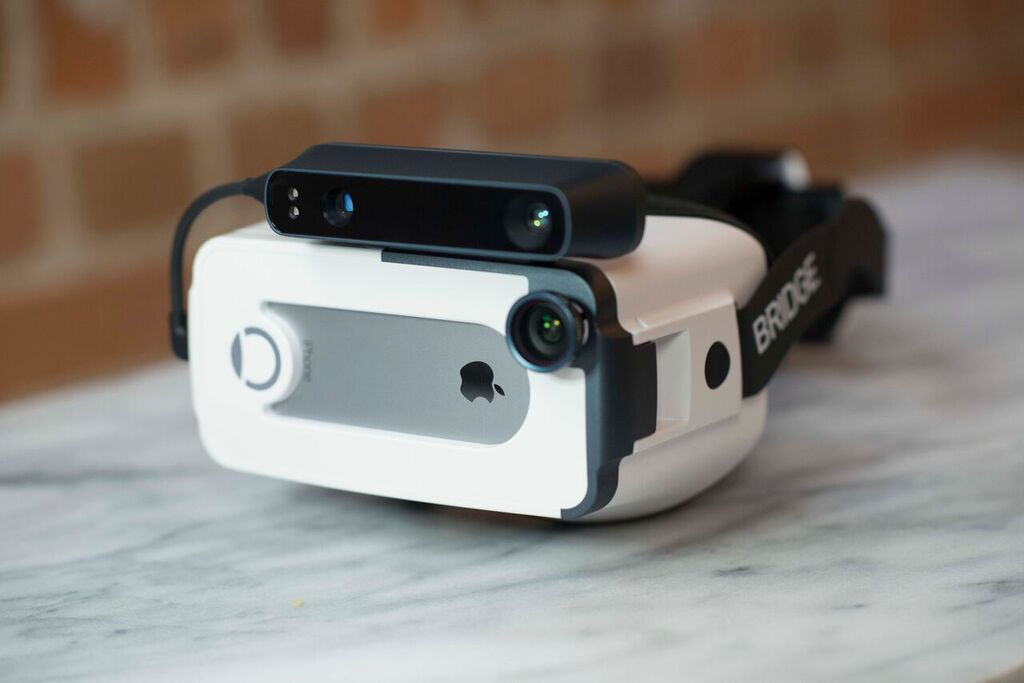 When Google Daydream came out, I was a little bummed. It only works with Google Daydream certified phones. [Read: not iPhone] Daydream validated what I've been arguing for some time: the future of reality headsets is not more cords.
For a minute I thought we would all need backpack PCs to run our variety of reality headsets if the experience was to be worthwhile. Tech companies thought so too.
You can still buy several backpack style PC's or backpacks to hold your standard tower, but no thanks. This tech follows Betamax. Instead, we're gonna get super small processors and better batteries. Mark me.
But, back to Bridge.
Occipital does a decent job of emulating Apple's style, with a device that offers some unique features to appease picky Apple folks. What is impossible to speculate is what will happen when Papa-Apple launches their own headset?
Apple Design?
Meh, not quite, but they're definitely trying to create a feel-alike product. Even the product video borrows from Apple confessional-style product launch videos.
The palate of the device is white and black, the way Steve would've wanted it. Like many products in the current Apple line, Occipital carved Bridge's parts from anodized aluminum.
Unlike the current crop of headsets that hang from a hat-like ring that wraps around the head, Bridge wraps around your melon like a pair of goggles. You adjust them via a quick release ratchet on the back, like a bike helmet.
The housing for that ratchet acts as a counterbalance to the google portion, but there's also a strap over the top to help disperse the load.
The most Apply part of the design is that it only fits an iPhone 6, 6s or 7. (Sorry Samsung fans.) There a door where you drop in your phone, then port it into the sensor array (The Structure Sensor) via a tiny cord.
Bridge uses the quite-capable camera on your iPhone to "see," augmenting that field of view with a wide-angle lens attached to the door.
Unique Features
One of the key features of reality headsets right now is the field of view (FOV). I expected this device to come up short, but it delivers a 120-degree FOV. That's 10 more than the Oculus Rift.
Unlike other wireless headsets, Bridge offers a robust depth of field feature too, via the Structure Sensor on top of the device. Combined with what they call the Bridge Engine, Bridge offers you an experience which engages your environment more seamlessly.
The headset knows where obstacles are, so it can either warn you or work with those obstacles, depending on the application. Because of the integration, Bridge provides developers the opportunity to move objects from the real world into the virtual one. It also allow virtual aspects to engage with objects in the real world. To help you, Occipital baked in a virtual robot named Bridgette, who can help you navigate the world of Bridge.
The Apple Reality Device
The question that could put the fly in Occipital's soup is what will happen when Apple launches their own reality headset?
Tim Cook, CEO of Apple, has all but admitted it will be something closer to an augmented reality headset. I expect something groundbreaking from Apple, especially from a design standpoint.
This scenario reminds me of Pebble beating Apple to the smartwatch. It was unimaginable that Apple could best Pebble's features. For many users, they never did, but that didn't save Pebble from their demise.
Apple has more money to spend on projects. They can afford to fail ten times over. They have all the talent too.
It seems inevitable that Apple will deliver something spectacular. They'd better, considering they're late to another game
In case you can't tell, I like Bridge. I want to see Occipital succeed.
I'm also a fan of new tech, regardless. I hope Apple delivers something solid, and not in the design-heavy-but-key-features-missing way they delivered the Series 1 Watch. (I'm still holding my wallet for the chipped version so I can ditch my iPhone.)
The good news is, if Apple can't nail it on version one of their headsets, Occipital has a great version one of their product. By then they'll be on version 2.0. I get chills just thinking about it.
To find out more information about Bridge, go here.