How do you like your eggs in the morning? If you know what's good for you, then you'll take them in a cup. Meals...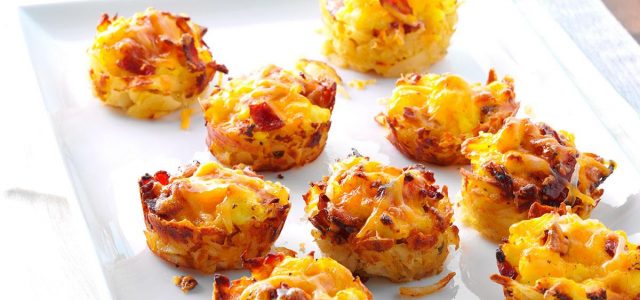 How do you like your eggs in the morning? If you know what's good for you, then you'll take them in a cup. Meals made in muffin tins are on the rise and if you're a fan of all in one, compact cuteness then you're going to want to listen up. These breakfast dishes are packed full of flavor and brimming with nutrients and better yet, can be enjoyed on the go. Want to make every breakfast count? It's time to get down to business.
You heard us. Blending all the deliciousness of frozen yogurt with the healthy goodness of fresh berries, these fro-yo berry bites are every bit as good as you think they are. Sweet, nutritious and oh-so fresh, the breakfast cups are a great way of getting your sugary fix in the morning without actually piling on a load of refined sugar. If you whip up a batch, be prepared for them to go like a flash; with breakfast cups this delicious, the food isn't going to last long.
Like chocolate? Want to eat more fruit? We give you banana and chocolate oatmeal cups. Combining the slow release energy of rolled oats with all the potassium power of fresh bananas, this recipe sure know how to pack a seriously healthy punch. All that's left for you to do is combine the ingredients, transfer to a cupcake tray and let the oven work its magic. Easy.
Who has the time to whip up a gourmet breakfast in the morning? With these French toast cups, you won't even need it. A cleaner, quick as you like version of the early morning classic, this recipe combines all of the ingredients in one easy to access place, making your life a whole lot more easy. Can you believe that they're gluten, grain and dairy free, too? Now that's what we call a breakfast miracle.
Cutting down on carbs might be something that you're trying to do more of but with so many delicious breakfast foods out there, actually going ahead with it can be something of a struggle. Enter the paleo egg cup. Made up of just 5 ingredients, these breakfast cups are a great way to get your fill of protein before lunchtime, helping to keep you feeling fuller and more productive throughout the course of the morning. If meat isn't your thing, you can simple try removing the bacon and enjoying a low fat veggie version, instead!
The breakfast food of champions, there's a reason why eggs continue to be so popular. Packed with healthy proteins and low in fat, the food can help you to feel more energized throughout the day, making powering through the morning a walk in the park. If eggs are your thing, you're about to be very excited; these scrambled egg breakfast muffins bring out the best of the food's flavor and can be prepared in a snap. Make breakfast count, every day!
Want an easy way to eat more hash browns? You got it. These breakfast hash brown cups might just be the best variety of the food out there and, packed full of fresh veggies and herbs, won't do any damage to your health! These little numbers can be prepared in the blink of an eye, giving you the time to focus on getting yourself ready and out of the door in the morning. Entertaining a breakfast crowd? Even better! The recipe is a real people pleaser and is sure to make a lasting impression.