Call them the no-muss, no fuss solution to 360-degree video. ORBI's Indiegogo campaign has about a month left, but they are more than halfway...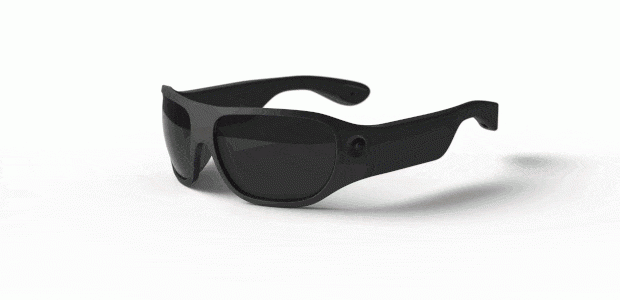 Call them the no-muss, no fuss solution to 360-degree video. ORBI's Indiegogo campaign has about a month left, but they are more than halfway to their goal. What their stylish shades solve is the problem experienced by all video recorders. You have to stop to mount them someplace, a helmet, board, handlebar or otherwise. With the ORBI Prime, you just put on your shades, then go.
As easy as throwing on a pair of shades, ORBI Prime is high definition, 360-degree video capture, in a unique package that captures quality video of all your best action.
360˚ Image Capture
Cameras that capture 360 video are sometimes wearable, but not always. That's not the only reason we don't talk about them on Body Hacks. They're also all over the technology map.
360-degree image capture means 360 degrees in one plane. This is different than the street view capture of Google Maps, where they get 360 x 180, which is a dome-shaped capture of your environment.
To capture either version, you have more camera options than we have time to go into in this piece. (We promise a wearable 360 cam article soon.)
Variations with the number of cameras, how those cameras capture images, and with what detail they capture said images are dizzying. In some cases literally, as one must rotate to stitch together an entire image.
Pricing ranges from the hundreds into the seven digit figures for super-fancy rigs. It will be at least another year, if not a couple years before we see some standardization of these offerings.
If you're not an early adapter, we recommend holding off for now.
ORBI Prime
What ORBI Prime offers is something for the person who's curious, who would like to put one big toe in the 360 water, without needing to sort through options or carry gear.
Prime is something you already wear. It's sunglasses. There are two camera lenses just behind your ears, then two more on the front.
Where many 360 cameras come mounted on the sides of sphere, ORBI Prime takes advantage of the sphere you already take with you everywhere; your head.
It's kind of genius, actually. From a wearable standpoint, we appreciate this manifestation more than any. It's no-nonsense 360-degree video.
Prime is water resistant (splashing, not dunking), designed to go anywhere you may adventure, including white water rafting.
Video uploads to your iOS or Android device immediately, so you can live stream on social media if you'd like.
Prime Quality
The image capture is digitally stabilized. It records a seamless 360-degree image, so there is no wonky stitching. The software does all for you anyway.
Prime records video in 4K quality, at 30 frames per second. That's pretty good for such a small form factor.
Live data capture includes acceleration, rotation and G-force effects. Micro SD storage on Prime maxes out at three hours of video, using a 128 GB card. It's otherwise limited to 90 minutes of video.
Audio recording is in stereo, but what more could you expect from such a small package? The lenses of the actual sunglasses are also premium, polarized, so you don't have to compromise.
The frames are polycarbonate, so they are lightweight but strong.
ORBI offers male and female versions. You may select from several frame and lens combinations, black with black, black with red, green with charcoal, white with slate gray or white with orange.
They'll contact you once their campaign is over. They offer some other goodies too, like a safety strap, charging case and lens cloth.
For an easy-use system, Prime is a brilliant application of technology. You'd better move fast, though. The early bird discounts south of $300 are gone. You may pay more than $500 when these hit the open market.
Oh yeah, and you'll wait until August of next year for these to ship, so like we said in the beginning… it may be time for you to hold off on 360-degree video.
You'll find ORBI's website here. Meanwhile, enjoy this inspiring video: