Cutting down on carbs might be something that you endeavour to do more of. While complex carbohydrates like brown rice, wheat and wholemeal bread...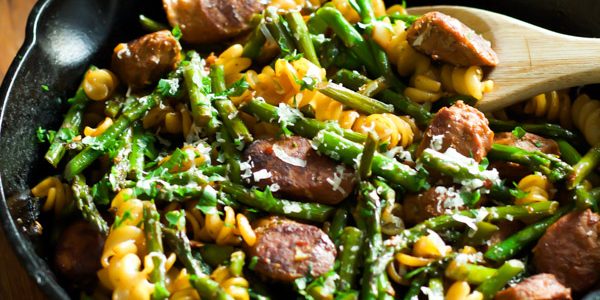 Cutting down on carbs might be something that you endeavour to do more of. While complex carbohydrates like brown rice, wheat and wholemeal bread can contribute to a balanced diet and steady energy flow, simple carbohydrates like white bread and pasta can do the opposite, interfering with the release of sugar in your bloodstream. While cutting out pasta from your diet can be a healthy step, the process is easier said than done and over time, you might find yourself craving your favorite filling meal. What if there were another way? Pasta alternatives are high on the menu and now, it has never been easier to banish your cravings and taste something fantastic!
Not only can this healthy dish be whipped up in the same pot but also, it doesn't contain a scrap of pasta! Using spiralized zucchini as its base, the dish is packed full of vitamins and minerals essential for a healthy diet. Light, healthy and incredibly tasty, this meal makes the perfect end to a hot summer's day and if you make a little extra, you can even try taking some for your lunch the following afternoon. All hail the one pot dish!
It's not just zucchini giving pasta a run for its money, either. This tasty cucumber noodle dish is packed full of flavor and won't leave you feeling bloated in the aftermath. Finished off with a spicy sesame dressing, the meal comes with an Asian twist, helping you to expand your foodie horizons in the process. Raw, crunchy and completely fresh, the noodle dish is as healthy as they come, helping you to keep your diet on the straight and narrow.
If you don't have a spiralizer to hand, there are a load of other ways that you can turn your pasta cravings around. This lemony pasta salad uses orzo pasta at its base, which can be a great alternative to the real deal. If you choose a whole grain variety of the stuff, you can fill up on a serving of slow release energy, without suffering any of the sugar lows that are associated with white pasta. This dish can be served at a gathering or as part of a feast or you can try keeping boxes of the stuff in your fridge. The decision is yours!
    4. Pistachio, Farro and Kale Salad
Loaded with crunch and brimming with nutrients, this pistachio, farro and kale salad is a high contender when it comes to healthy content. If you've never tried farro before, you're about to be in for a tasty surprise. A natural grain, farro is packed full of the same kind of protein content as quinoa while cutting down on the fat content. Served up with a handful of pistachios and fresh kale, the grain is a great alternative, helping you fill up on the good stuff!
Pasta alternatives are on the rise and now, you can find all of your favorite grains in some kind of carby guise. Quinoa pasta is one of the most popular at this point in time, helping healthy eaters to fill up on something tasty and satisfying. If you're looking for a way to get into the food, then let this sausage and asparagus dish be it. Quick to make, packed full of healthy nutrition and loaded with energy, the meal is a great dinnertime alternative!