Another great wearable product beat it's crowdsourcing goals with time to spare, the SenseOn device. In the wearables category, it's a stickable, about the...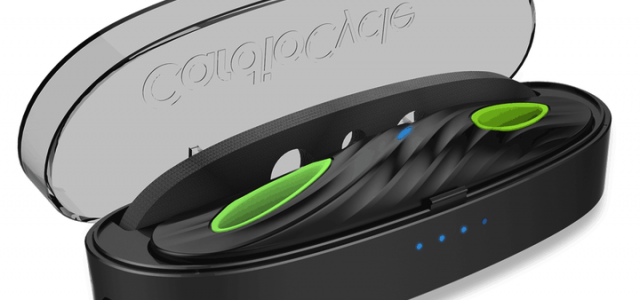 Another great wearable product beat it's crowdsourcing goals with time to spare, the SenseOn device.
In the wearables category, it's a stickable, about the size of your little finger. You adhere it to your ribcage. SenseOn will help keep you in the proper training zones, pushing your performance to new levels.
If you want something to track your heart rate (HR) and breathing activity, with the beautiful simplicity found in Apple products, bearing the accuracy of today's best HR monitors, then SenseOn is worth your time.
Simple Stickable
Up until recently, stickers were for children or bumpers. Now we find temporary tattoos you can wear to control your devices. What's next? Stick-on heart rate and breathing monitors?
Yep.
While at first, it sounds like a sticky mess on your skin, the SenseOn uses a unique form of adhesive. It lets water [read: sweat] roll off and absorb, but doesn't leave behind goo.
SenseOn utilizes the same technology used in kinesiology tape. You mount it just near your heart, below your left pectoral. This is the best place for obvious reasons.
Once it's on, it does more than just measure your cardiovascular activity. It measures steps, calories, and distance covered too.
The design is simple, lightweight and flexible. Other than a tiny LED and some simple design elements, there's not much to see.
That's a good thing. Unlike many fitness trackers, nobody has to know you're wearing it because it's not on your wrist.
Proper Zone
The proper heart rate training zone eludes most people. Most people either do not train at an intensity that's effective, either too low or too high. Under training is most common, but overtraining happens too.
Using their trademarked BiPA technology—Bio-impedance Potential Sensor—the team at SenseOn give you EKG accuracy.
The majority of the wrist-worn HR trackers use an optical sensor, which often inaccurate.
SenseOn collects data, then transfers it to the companion app so you can always train in the right zone. Because it also tracks steps and calories you can stay in those zones too.
Phenomenal Performance
While chest straps offer the same level of heart rate accuracy found in SenseOn, they won't give other feedback, like breathing rate or calories.
They also wrap all the way around your chest. The elastic is a collection place for sweat, lotion, whatever else you expel. Over time those straps get funky.
While you can't wear your SenseOn swimming, it's waterproof to IP67. That means you can sweat it up, rinse it off, then call it a day.
That means that every time you put on the device it will be like the first time, which means you will keep wearing it. You'll keep tracking your performance.
Together, you are a performance duo.
Oh yeah, and it stays charged for 20 hours, so you could run a few marathons before needing to re-charge. The recharging is wireless.
The SenseOn is still Crowdfunding, so you can't buy it yet, but soon. If you just can't wait, you could contribute to the campaign.
At this point, the most of the lowest cost perks are gone, but you could get lucky if you move fast.
If you were training within the proper zones you could move faster.