Underwear isn't surrendered much quarter by the body. They ride in the ground zero of bacterial stank, where we ...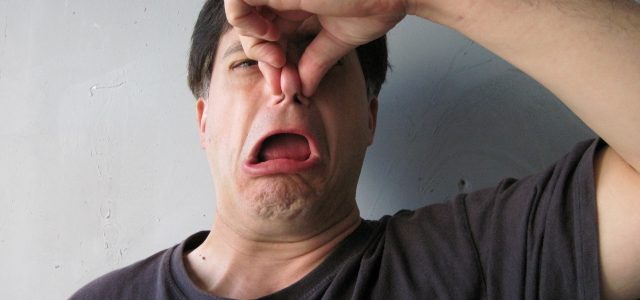 Underwear isn't surrendered much quarter by the body. They ride in the ground zero of bacterial stank, where we [men, I'm looking at you] make some of our most pungent stank. Ew.
Echoed often in articles on wearables is the concept that the future for wearables is invisibles. This is no more true than with Organic Basics Silvertech Odorless Underwear made with pure silver.
Bringing up the low-tech end of wearable clothing, the Silvertech's are aimed, at least for now, at the male market.
Organic Basics (OB), initially funded in 2014 as a briefs and sox company, they are already selling product. The Silvertech line intends to build on their initial learnings, adding silver threading to their blend, which kills all (99.9% of) bacteria. Funding for Silvertech will be through their Kickstarter.
This underwear looks very promising, not only to help men keep their workout funkiness at an all-time low but in an underwear that is comfortable, stylish and well constructed; all without Bluetooth or motherboards.
Comfortable
Let's get this on the table right away. I'm a synthetics guy. I know they hold odor worse than any other fabric, but the life of most synthetic boxer-briefs with regular workouts is short. They are worthless in 6-12 months.
That said, I'd be open to trying these. Cotton has never looked so comfortable on the internets. The OB site promises "seamless knitting and foot lock stitching for ultimate comfort."
Materials, as their brand suggests, are all organic. Well, nearly all. They weave 4% elastane into each garment to help retain the shape. Promising.
That way, when you wear your Silvertech briefs to play basketball for the third time this week, you can expect they won't stretch out of shape.
Stylish
At present, the OB team is only producing briefs, sox, and a t-shirt. Arguably, the t-shirt could totally be worn by a woman, as could the sox. The briefs may fit a little loose for a woman's workout routine, though.
In any case, they've been designed, according to OB, to feel like a second skin. Form-fitting being the current style trend, there's no reason you couldn't wear the t-shirt during your workout  or with a pair of jeans to look simply fashionable.
In fact, you'll be able to do so in black or white. Up until now, their products have all been black fabric, but the stretch goal set for their Kickstarter is to start manufacturing a white t-shirt.
Well-constructed
Say it out loud, "long fiber organic cotton." This is the secret to OB's durability. Regular cotton briefs can last longer than my preferred blend of spandex and nylon.
In the case of Silvertech, the manufacturers want to do away with fast fashion and planned obsolescence. Their underwear may last ten years or more.
What's more, their goal is a 50% water consumption reduction. You will use half the water to clean these versus your other undergarments.
The silver threads are woven into the fabric where you most need temperature regulation, and they'll never wash away. Silver works as a perfect regulator for temperature, keeping you cool when it's warm, but warm when it's cool.
The temperature controlling aspects of the silver will not only manage your body temperature and odor but because they are threads and not nanoparticles, they will last as long as the underwear.
The OB team goes beyond just making a nearly 100% organic odor-fighting product. They guarantee their labor is WRAP (Worldwide Responsible Accredited Production) certified.
Sustainability is a core value, so everything from their manufacturing practices to their packaging is taken into consideration. They use repurposed or sustainable materials at every checkpoint.
All told, those are undergarments not only you will feel good about, but everybody close to you will appreciate too.
Want to see more? Check out this video: