There's a little-known trend making its way up the ranks of fitness. Actually, it's been around since the 90's but hasn't stopped growing since...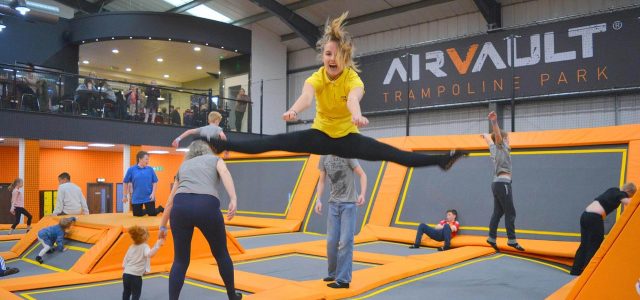 There's a little-known trend making its way up the ranks of fitness. Actually, it's been around since the 90's but hasn't stopped growing since those early outfits. Bounce or rebound fitness employs the use of large trampolines covering the floor and walls of a room, like some kind of space-age training facility. It may be dangerous, sure, but it looks hella fun. This is one outlet of fitness you hadn't considered.
It could be your thing.
The experience of rebound fitness is closer to bungee jumping in many ways but takes a lot less courage. The possible applications are endless, but for the cost, you may be better off building your own facility.
You might want to upgrade your insurance while you're at it, but it's worth checking out.
Experience
The format for trampoline parks is generally the same, which means you can expect the same experience wherever you go in the world.
Trampolines line the floor wall-to-wall. They stretch up the wall. The idea is you can string together a series of acrobatics, flipping off the wall to return the way you came.
Most set-ups also include an area where you can play a bouncing version of dodgeball or basketball.
There are areas which are for more experienced bouncers, where options may include a strap on board to train like you are snowboarding or lofted ceilings for tumblers to practice acrobatics.
Possibilities
The selling point of trampolining is that for a moment, you get to fly.
Actually, it's falling, but so is space-walking; that thing the astronauts do. Don't worry. The moon is in a constant state of falling too. It never hits up because of the huge space trampoline strapped around the planet.
Speaking of space… Many rebound outfits are happy to point out that this application of fitness NASA believes "is the most efficient, effective form of exercise yet devised by man."
Bouncing is beneficial to the lymphatic system which can improve the immune system and aid in full body detoxification. It may be the thing you need after a night of heavy drinking.
Costs
For most of these parks, they are not set up to offer gym-style memberships. You're gonna pay for it if they don't offer classes.
What these facilities cannot offer that your local gym can offer is space. One person working out in the gym takes a two square meter footprint, but the same person bouncing around requires ten times that. It's a matter of real estate economics.
In some locations, however, they see the opportunity. They've hired trainers to conduct group rebound classes. You're gonna have to research the facility to know, but if they don't offer it, ask.
We found it difficult to find information about US-based rebound classes online. Without a class, you could spend as much as $50 per visit in some places, depending on the package.
Risks
We'd be remiss if we didn't point out that bouncing is volatile. Just look up Slamball, the mash-up sport of bouncing and basketball.
It was fun while it lasted in the early 2000's, but they racked up some awful injuries during that time. It's true, you could land on your head, but the things that could go wrong are as more about how you land on your feet.
They suspend all the trampolines by springs inside of a frame, similar to the one your cousin had in the back yard growing up. They pad those springs and give you plenty of room to bounce, but rebounding can get out of control if you're not experienced.
Landing on the springs could lead to a sprained ankle or worse… but these injuries are not common, as is the case with all fitness endeavors.
Before this turns into a cautionary tale, look up trampoline fitness in your area.
Sky Zone is the largest outfit in the United States, with locations near most metropolitan areas. There are others though so shop around.
It's worth at least a visit to bounce through the air like a video game character. Who knows? You may decide it's worth all the coin you'll spend to make it a habit.
It could be your thing.